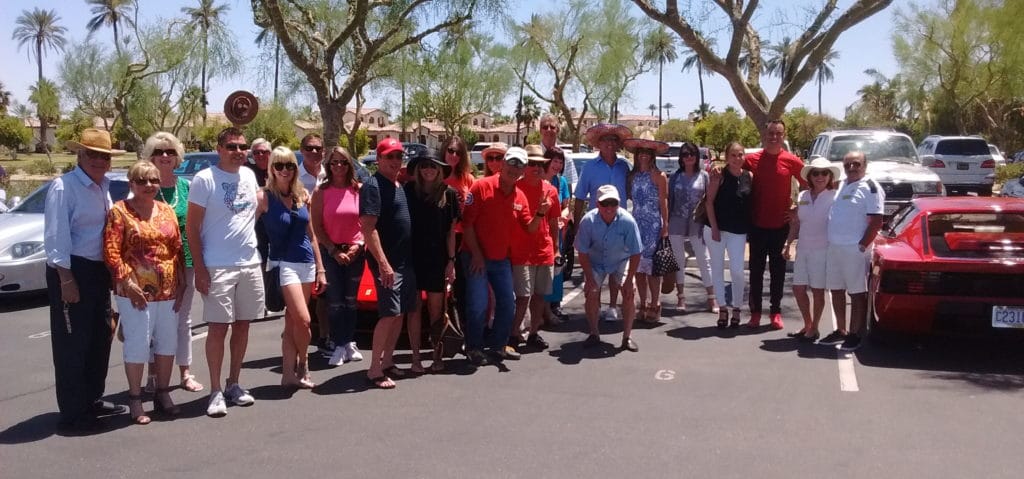 SAN DIEGO REGION
RED ROCK VIEWS
LA QUINTA RIDE & DRIVE/LUNCHEON
Thirty San Diego Region Members enjoyed a special Cinco de Mayo celebration in the beautiful city of La Quinta.  Red rock views and unseasonably warm temperatures awaited our Ride and Drive participants who started their drive in Temecula and ended at the exclusive Citrus Club Resort in La Quinta.  FOC Members Ron and Tina and Chris and Gail designed this event for maximum enjoyment.  Chris and Gail live in La Quinta, however, Chris decided it was more fun to lead the Ride and Drive in his McLaren, rather than wait for us to arrive, so he drove to Temecula and  brilliantly shepherded our group through the mountains to the private Citrus Club in La Quinta.  Gail photographed us upon arrival and welcomed us to our luncheon destination with Margaritas and an outstanding Mexican Buffet in honor of Cinco de Mayo.  The private room was intimate with 3 tables of 10, looking out over the golf course.
When lunch was over the group caravanned a short distance to the gorgeous home of Chris and Gail for homemade chocolate flan and Tes Leche Cake decorated  with a picture of an F50….yes it was a BIG CAKE.   Special beverage was homemade Sangria.  We were all prepared for a pool party, but honestly, with temps at 108 the consensus was staying indoors for a relaxing "get to know you" party.  PS The La Quinta temps in May are in the 90's, perfect for swimming and the Jacuzzi, but the unusual high made it challenging for those who wanted to relax outside by the pool.  We all had so much fun.  Thank you Gail and Chris for leading the Ride and Drive, setting up the luncheon and hosting the dessert and pool party that afternoon at their gorgeous La Quinta home.  Tina and Ron  organized the event; thank you to those who participated.  It was a Cinco de Mayo to remember.