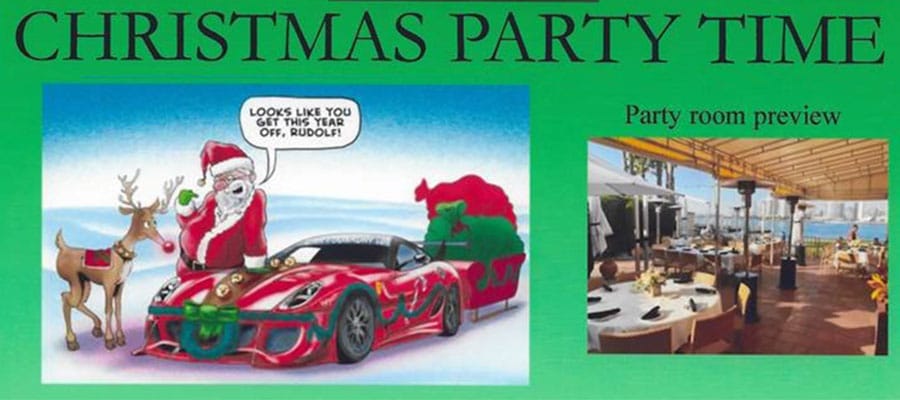 CHRISTMAS PARTY TIME
We are excited to welcome back this wonderful holiday event… please join us in celebrating the season on the beautiful outdoor patio of Il Fornaio restaurant on Coronado Island. You will be greeted with a glass of Prosecco and appetizers, followed by a savory 3 course sit-down lunch to include soup or salad, your choice of Tagliatelle Bolognese, Salmon All Griglia, Pollo Peperoncino or vegetarian Pasta Primavera. Tiramasu will be the dessert. Included free of charge is a spectacular view of the San Diego Bayfront and plenty of onsite gated parking, so please bring your vehicle of choice … Ferraris preferred! No Host Bar
---
Location
Il Fornaio, 1333 First St, Coronado, CA 92118
Date
Sunday, December 5th 2021
Time
A wonderful lunch starts at 12:30 PM
Registration
Please sign up early, seating is limited. This special event is for FOC MEMBERS only. Plus Adults Only
Sam Montini [email protected] 858-220-6696. For more information and event registration please click here
The Spirit of a Ferrari Christmas in Coronado
Article/Photography by Sam Montini and Lorraine Yapps Cohen
A celebratory Christmastime gathering in our cars reminds us that we're in it for more than fancy Ferraris.  It's the joy that Ferrari Owners Clubs across the country enable among us.  And so too did such a celebration happen in San Diego the afternoon of Sunday, December 5, 2021, in the natural glory of Coronado's harborside shores to rekindle that joyful ferrarissimo spirit.
Some said San Diego's Ferrari Owner's Club (SD-FOC) holiday celebration outdid itself.  Others said it was the best one yet.  Agreement existed all the way around about its completely enjoyable outcome. How that happened occurred upon the efforts of event coordinator Sam Montini, who pulled it off with aplomb and his precise organizational skills.  With constant attention to detail in the preparation, he established the celebration at the stunning shore-side restaurant, Il Fornaio in Coronado, a venue with a spectacular view of the San Diego city profile from across the water and a new place for the Club to celebrate the season.  That attention to detail included consistently corresponding with registered attendees, citing specifics of the event including weather conditions, parking instructions, and other details too numerous to name.  Sam left no stone unturned, unannounced, or question unanswered.  Some even wondered whether Sam custom ordered the warm, idyllic weather.
Car camaraderie and Christmas cheer prevailed, served up upon arrival with a flute of Prosecco to kick off the festivities, followed by a three-course lunch and a fine finale of Tiramisu.  A convivial atmosphere characterized the gathering while the sun shone brightly  on the group with the spectacular San Diego skyline in the background.
Saving the best but not the least for last, Sam arranged for raffling off the beautiful large-format Ferrari calendar.   Oddly enough, the calendar was missing some essential elements every calendar should have — the days of the week — which showed only that it was more about showing off the most famous and finest Ferraris in glossy color photographs than it was about what day it is!  Alice Gallo, the former event organizer for the Christmas Party for the past 12 years, held the winning ticket!  This showed that Lady Lucky must have rewarded  Alice for her steadfast dedication to the Club for so many years of service.  Congratulations, Alice! 
Event organizer, Sam, found it impossible to contain the camaraderie of the event on schedule as many lingered on in the glow of the gathering.  That's what happens when Ferrari tifosi get together in the name of the marque to celebrate one another, the Club, and the spirit of the season.