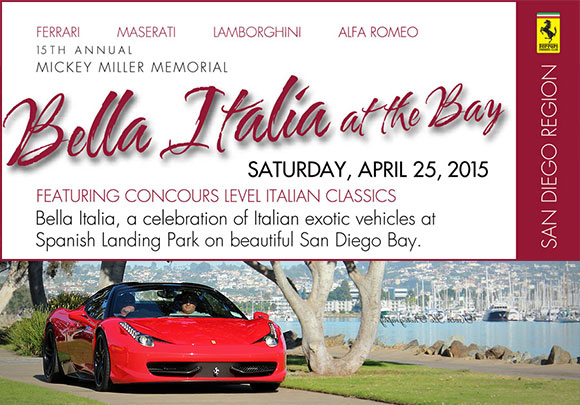 ONLINE REGISTRATION IS NOW CLOSED!
If you are interested in attending the event please contact: [email protected]
Thank you and we look forwarding to seeing everyone at the event!
---
Ferrari Owners Club San Diego Region presents:
15th Annual Mickey Miller Memorial Bella Italia Auto Show
The Ferrari Owners Club of San Diego is proud to sponsor this celebration of exotic Italian super cars on the beautiful San Diego Bay.
Featuring Concours Level Italian Classics and cars from Ferrari, Maserati, Lamborghini, Alfa Romeo, and more!
Live music, great food, top line vendors and renewed friendships. Mark your calendar and join the fun!
Event Schedule
8-9:30 am – Arrival and registration
10:15 am – Judging begins
11:30 am – Catered lunch (included with your registration)
 2:00 pm – Award's presentation
Event Details
Date: Saturday, April 25th. 2015
Location: Spanish Landing Park on the San Diego Bay
Time: 8am – 3pm
Registration Deadline:  APRIL 15, 2015  (Sorry, no refunds after this date)
Contact Information: Jim Hyldahl, Event Chair – 858-485-8621 or

[email protected]
[styled_button title="BUY TICKETS" href="https://www.focsandiego.com/product/bella-italia-2015/" title_align="text-center" display="inline" button_height="" text_size="" letter_spacing="" font_weight="100″ text_color="text-white" style="style-3″ bg_color="bg-main" icon="" icon_size="" icon_style="" icon_color="icon-color-main" border_width="" border_style="solid" border_radius="" border_color="border-color-main"] [styled_button title="BUY LUNCH TICKETS" href="https://www.focsandiego.com/product/lunch-only-bella-italia-2015/" title_align="text-center" display="inline" button_height="" text_size="" letter_spacing="" font_weight="100″ text_color="text-white" style="style-3″ bg_color="bg-main" icon="" icon_size="" icon_style="" icon_color="icon-color-main" border_width="" border_style="solid" border_radius="" border_color="border-color-main"]