PETERSON TO SHAW MYSTERY RUN
San Diego Region's Fall Fun Run
Article by Tina Tinkham  Photos by Ron and Tina Tinkham and Ann Shaw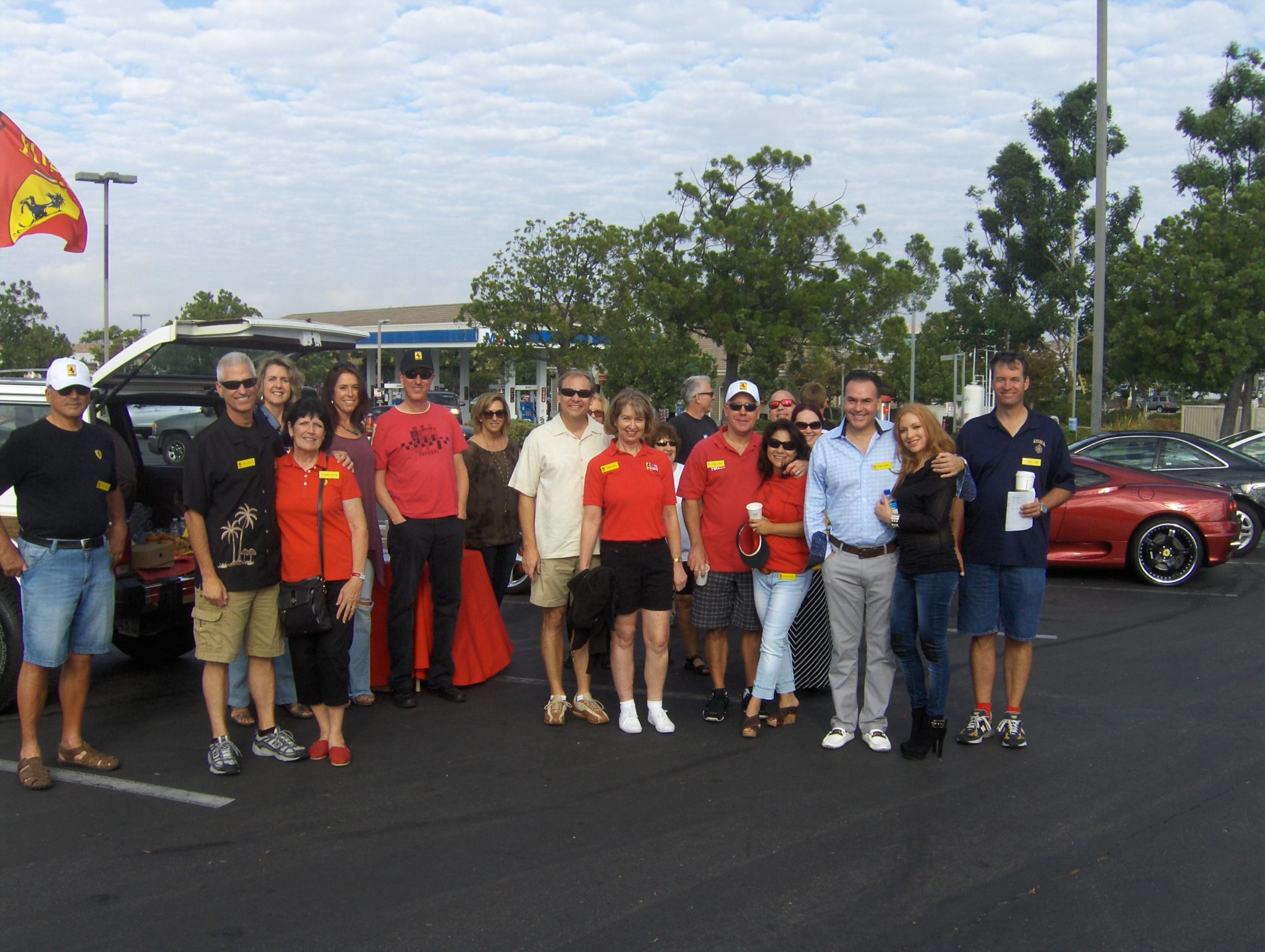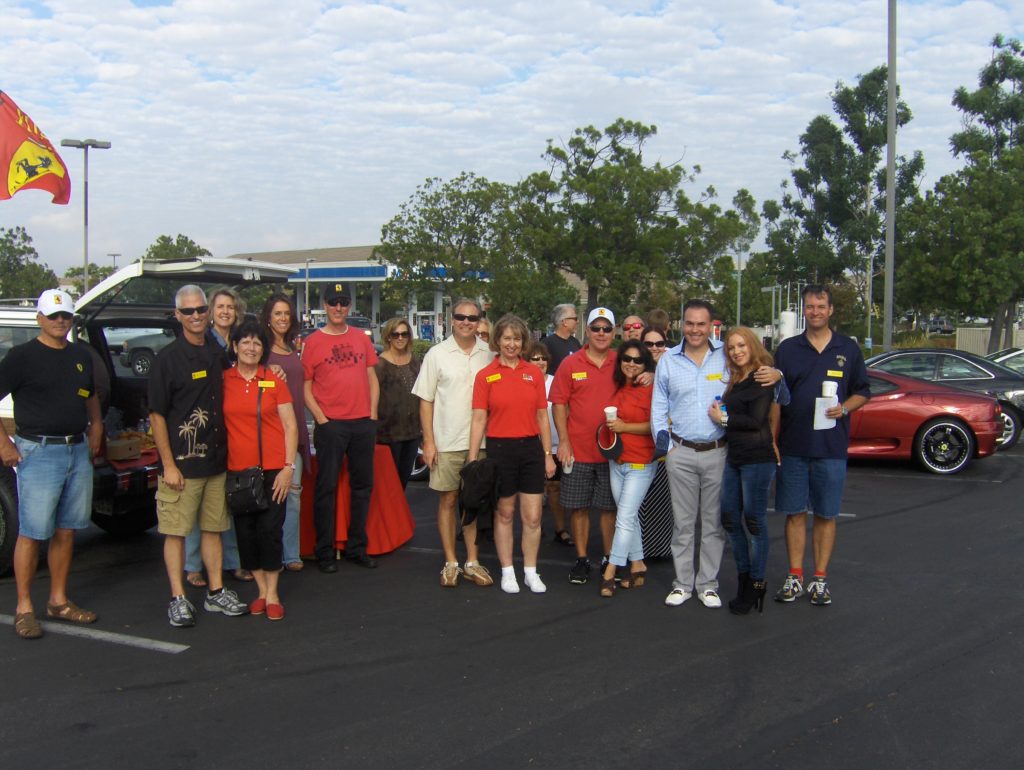 Group Photo
To LURK, PROWL, FLOUNDER, SLINK…….these were a few of the scary code words listed along side the driving instruction sheet given to each brave couple who signed up for the October 25th Peterson to Shaw Mystery Run. Ferraris went out 5 minutes apart for this Mystery Ride and Drive that made its way through the most beautiful and secret roads in North County. The mystery route took each couple through Fallbrook and into the backcountry roads of Camp Pendelton ending at Scott and Ann Shaw's lovely home in the hills of Temecula.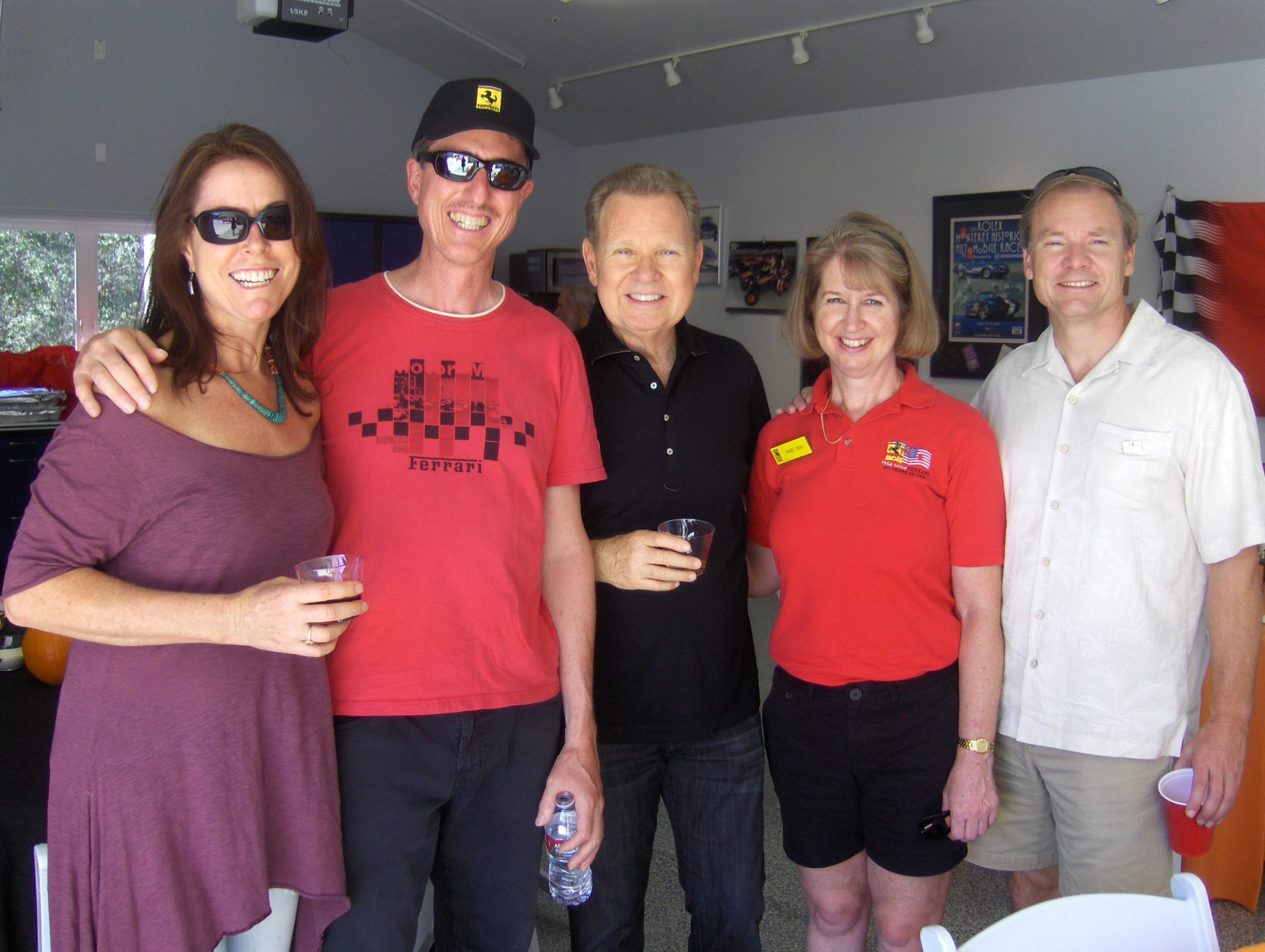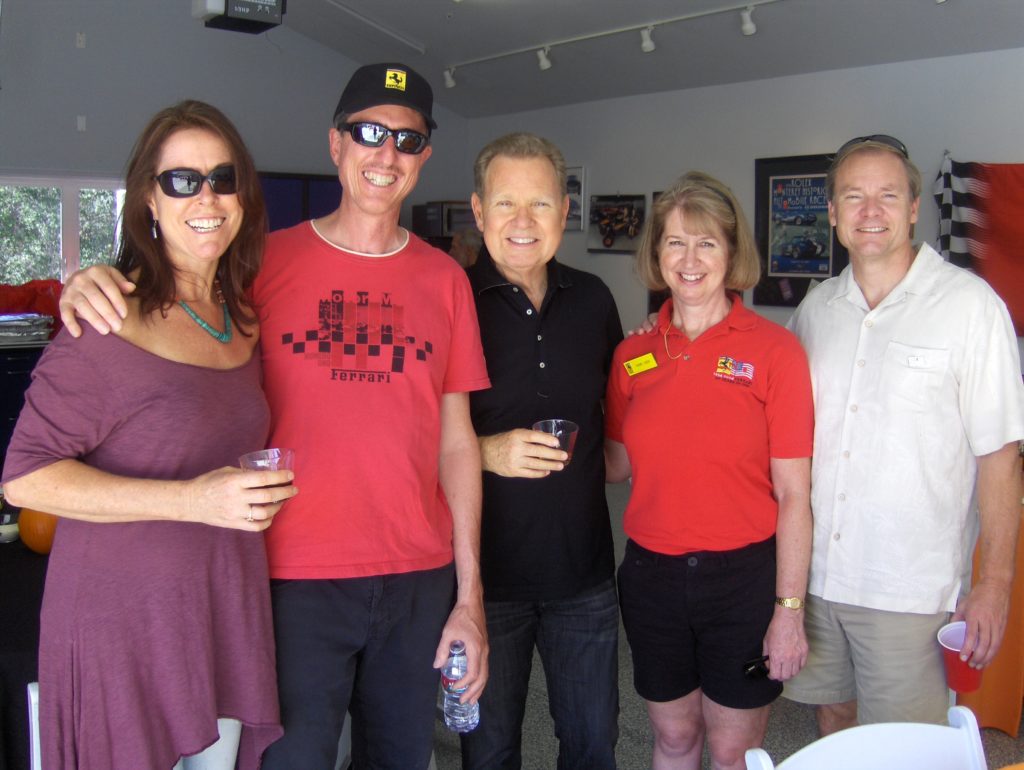 Vida and Bill Ceno, SD Region President, Gary Peterson, Randi and Dave Osen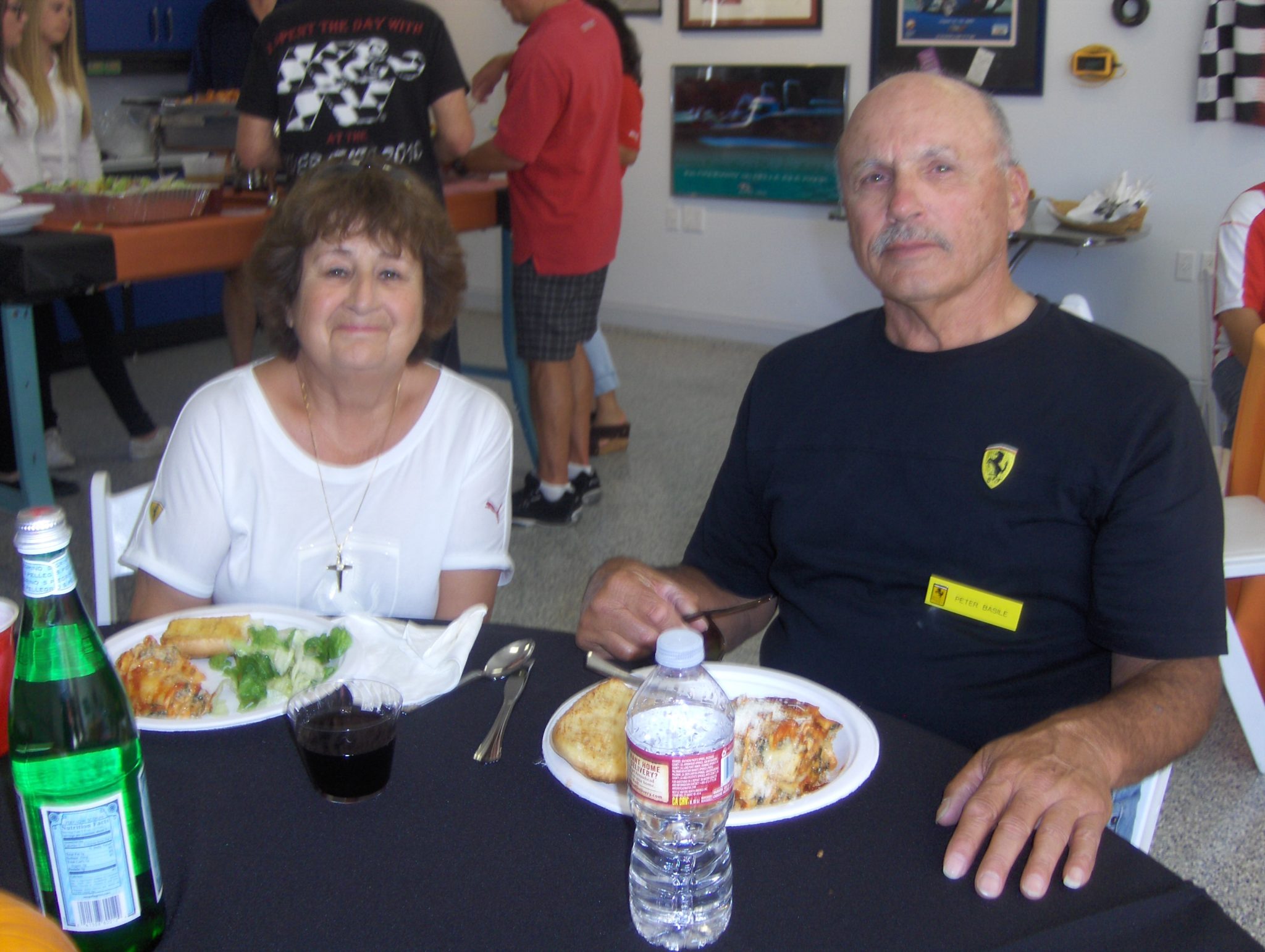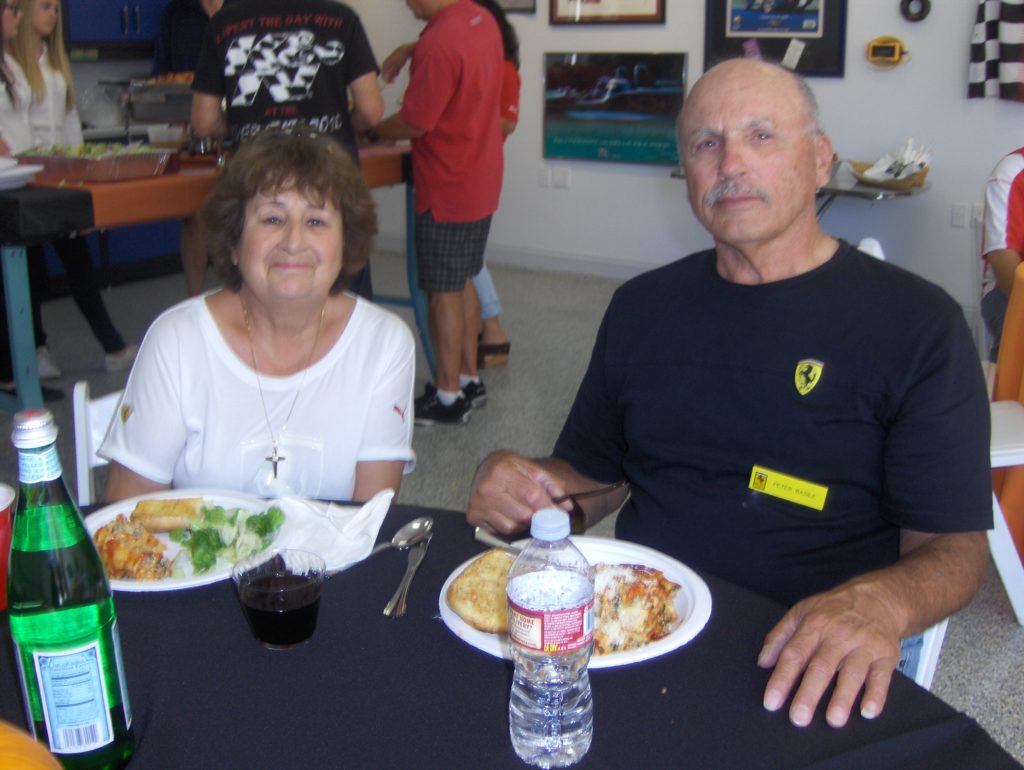 Charlene and Peter Basile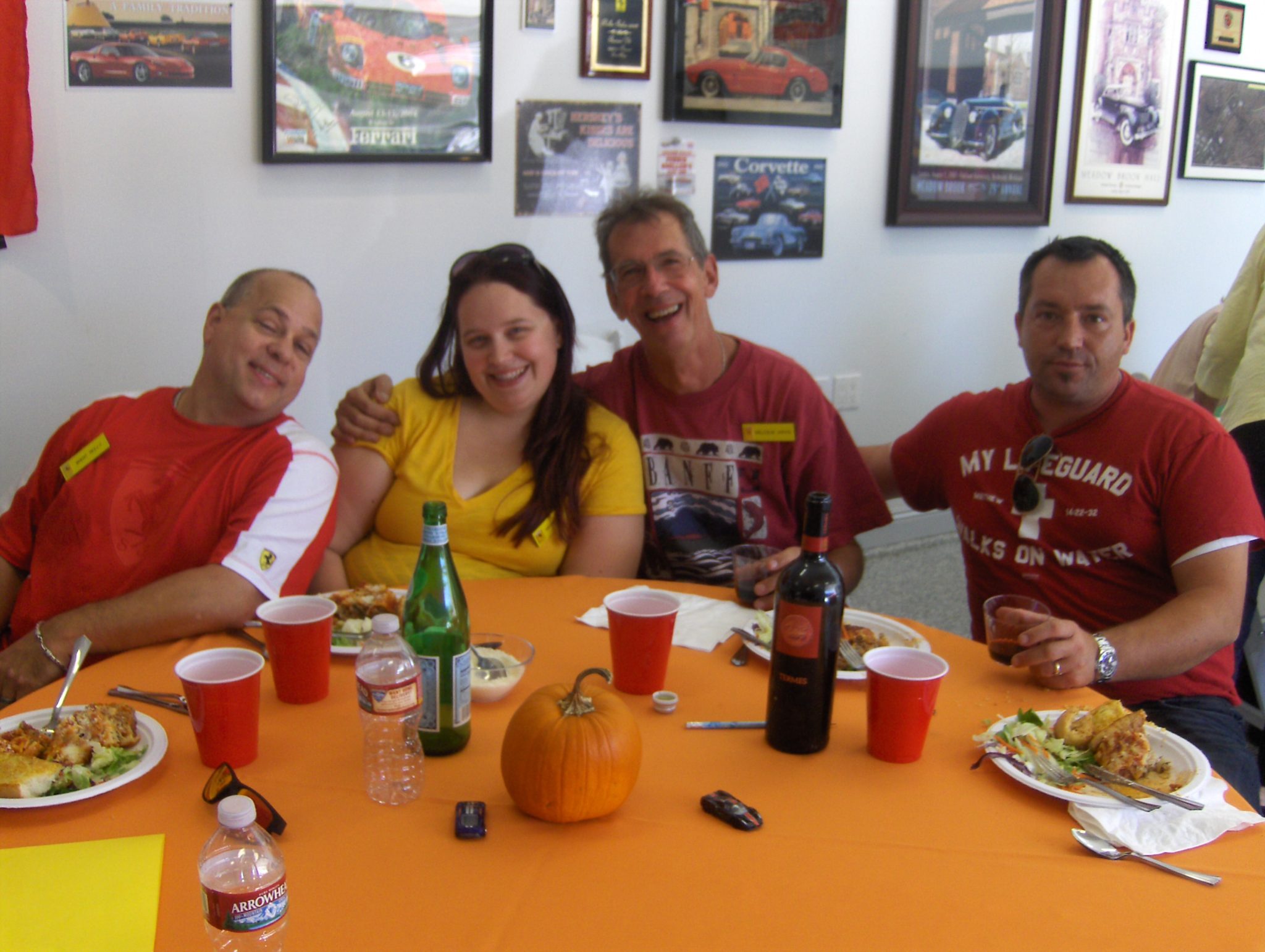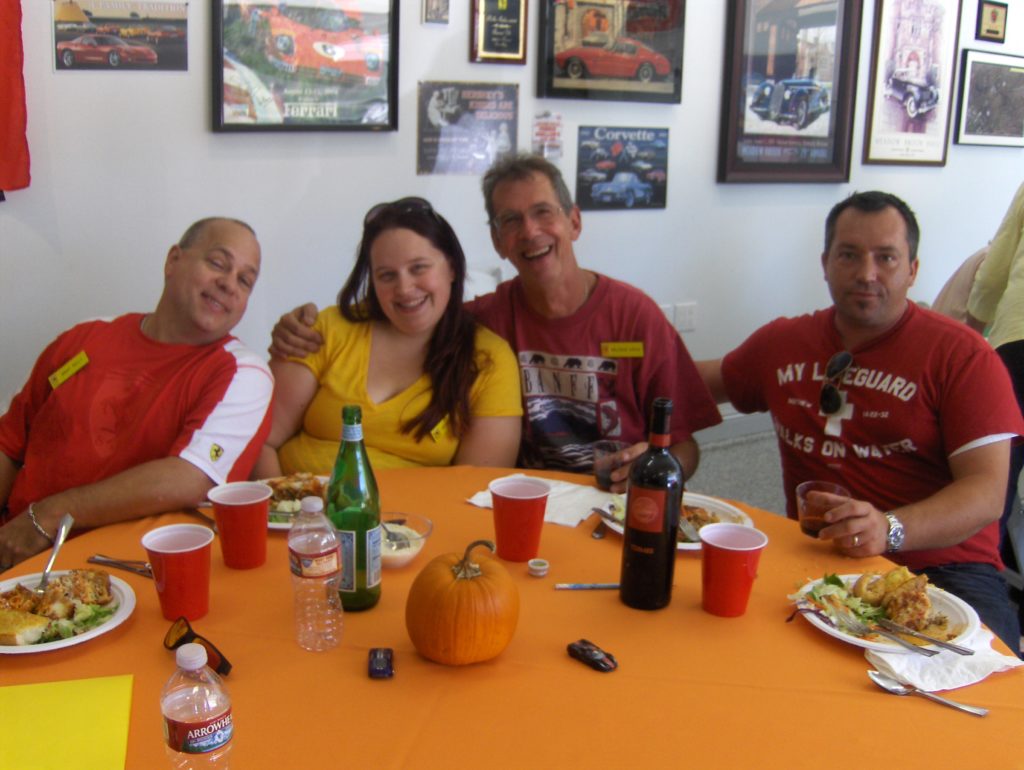 Brent and Amanda Reilly along with Malcolm Jarvis and his Co-Pilot Davide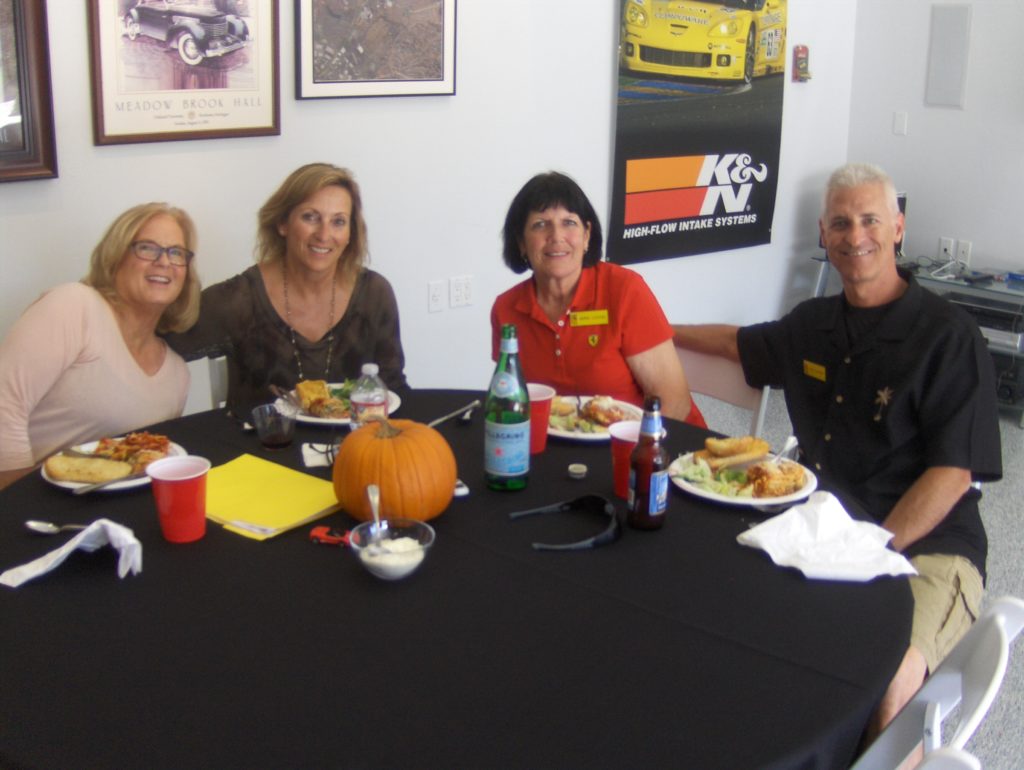 Co-Pilot Shellee Jean and Denise Longwell along with Morna and Tony Levatino
pproximately 30 people (12 cars) started the drive at the parking lot of Starbuck's in Scripps Ranch. Tina Tinkham served pastries and coffee from the back of her restored 88 Jeep Wagoneer while Scott Shaw and Ron Tinkham greeted each couple and began the process of sending them one Ferrari at a time off on the drive. With instructions and pencils in hand, they were briefed on what they were to accomplish while in route. All made it to the end for the welcomed Italian Buffet served by Ann Shaw and friends in their newly converted Ferrari Room. Lasagna, Penne Sorrentina, salad and garlic bread awaited the hungry group. Awards were given out to 3 couples who either had the best time, solved the riddle or answered all the questions on the instruction sheets.
Awards prepared by Steve Maxwell of Steve Maxwell Exotic Car Service were given to the following couples:
TOPGUN         Bill and Sandi LeMasters
WINNER         Tony and Morna Levantino
CHAMPION     Brent and Amanda Reilly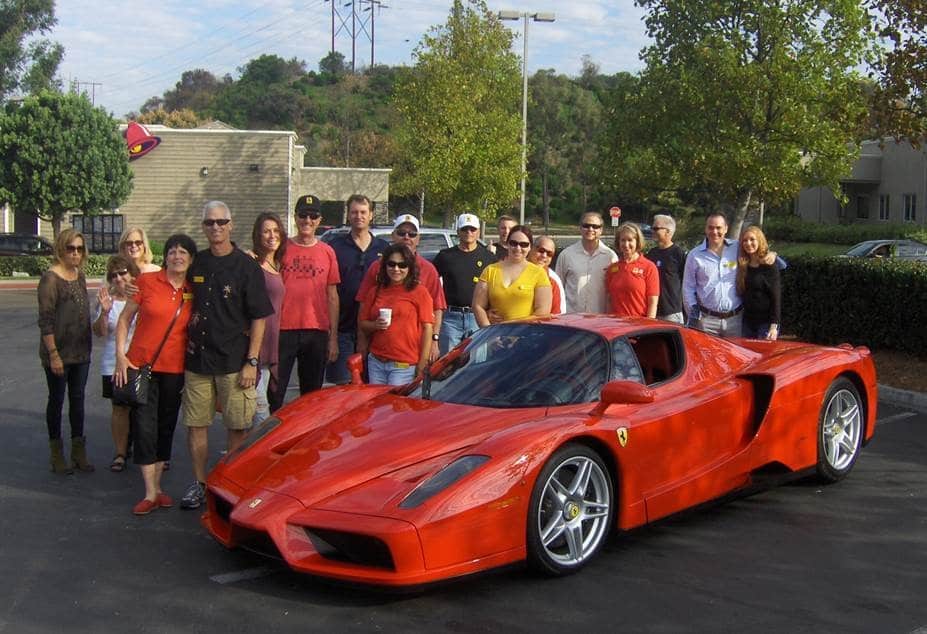 Enzo and Company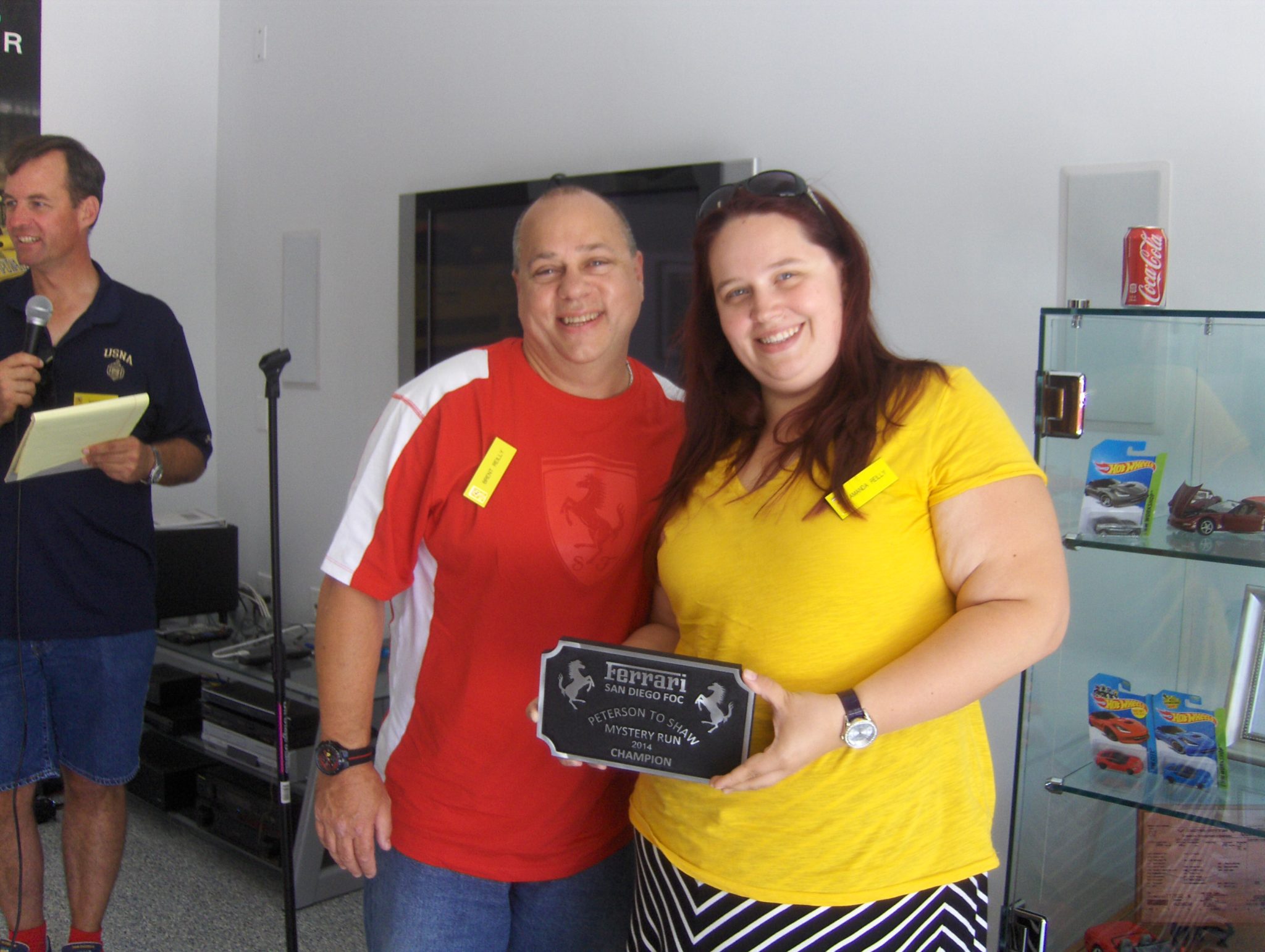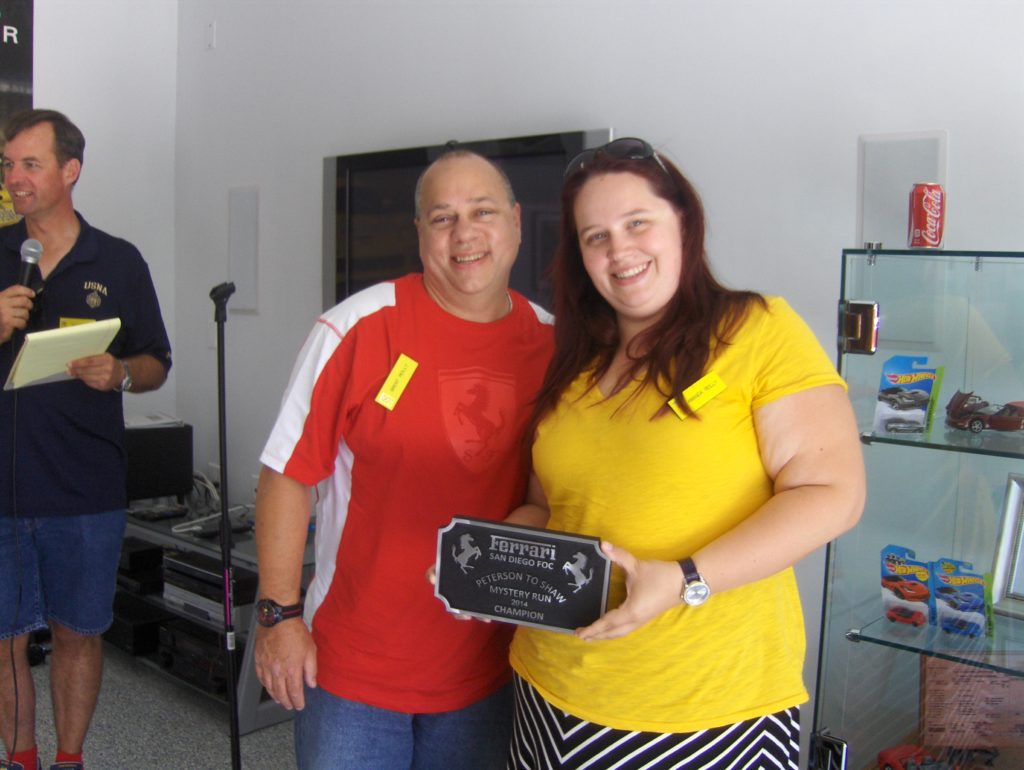 Champions – Brent and Amanda Reilly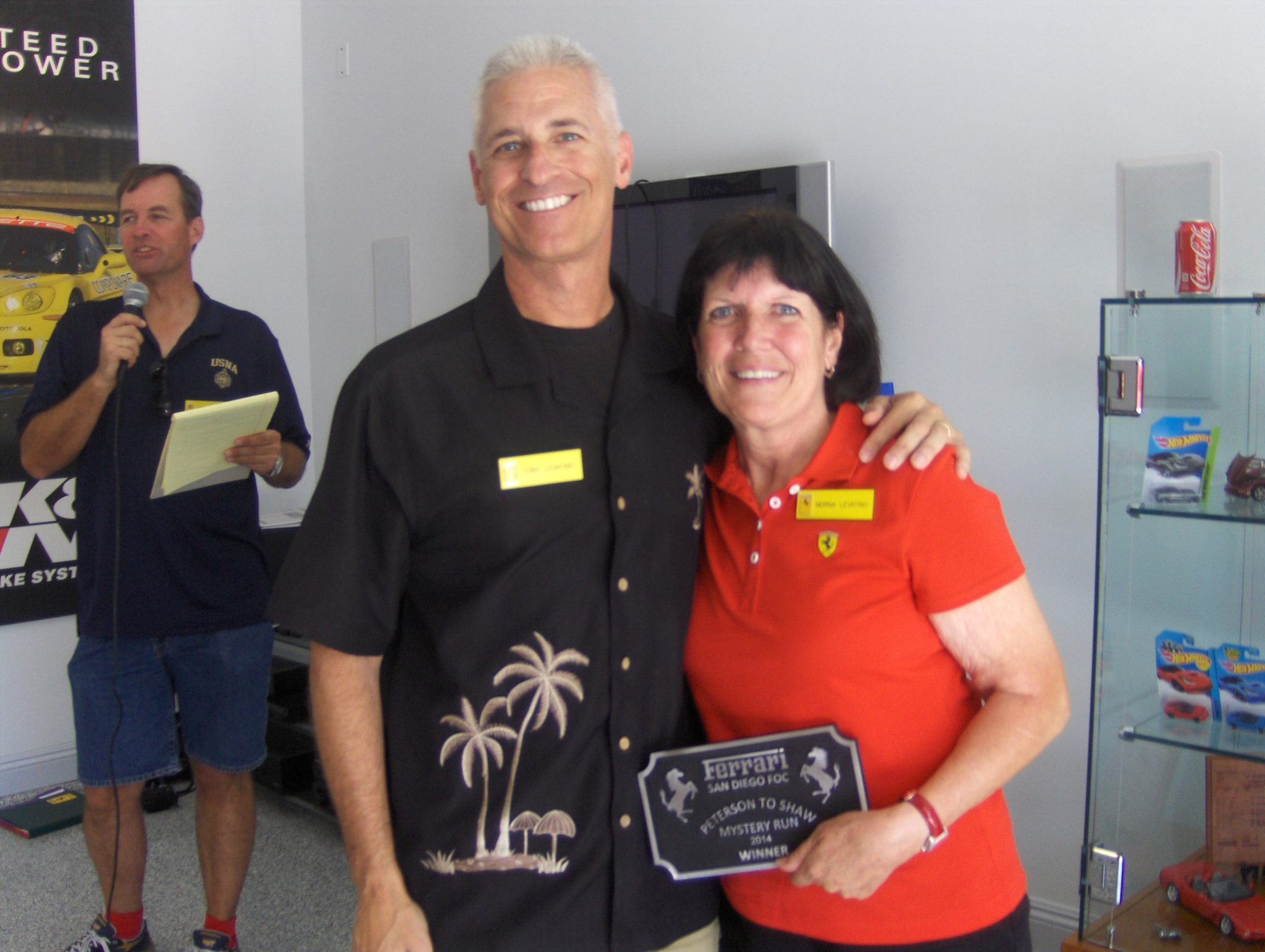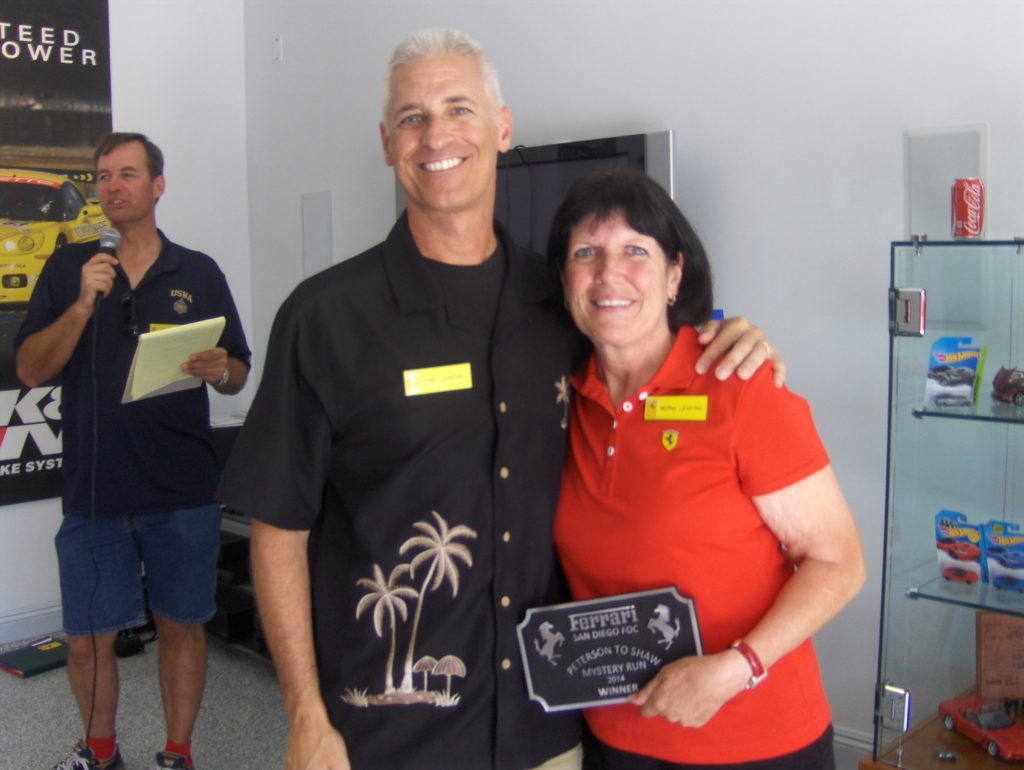 Winners – Tony and Morna Levatino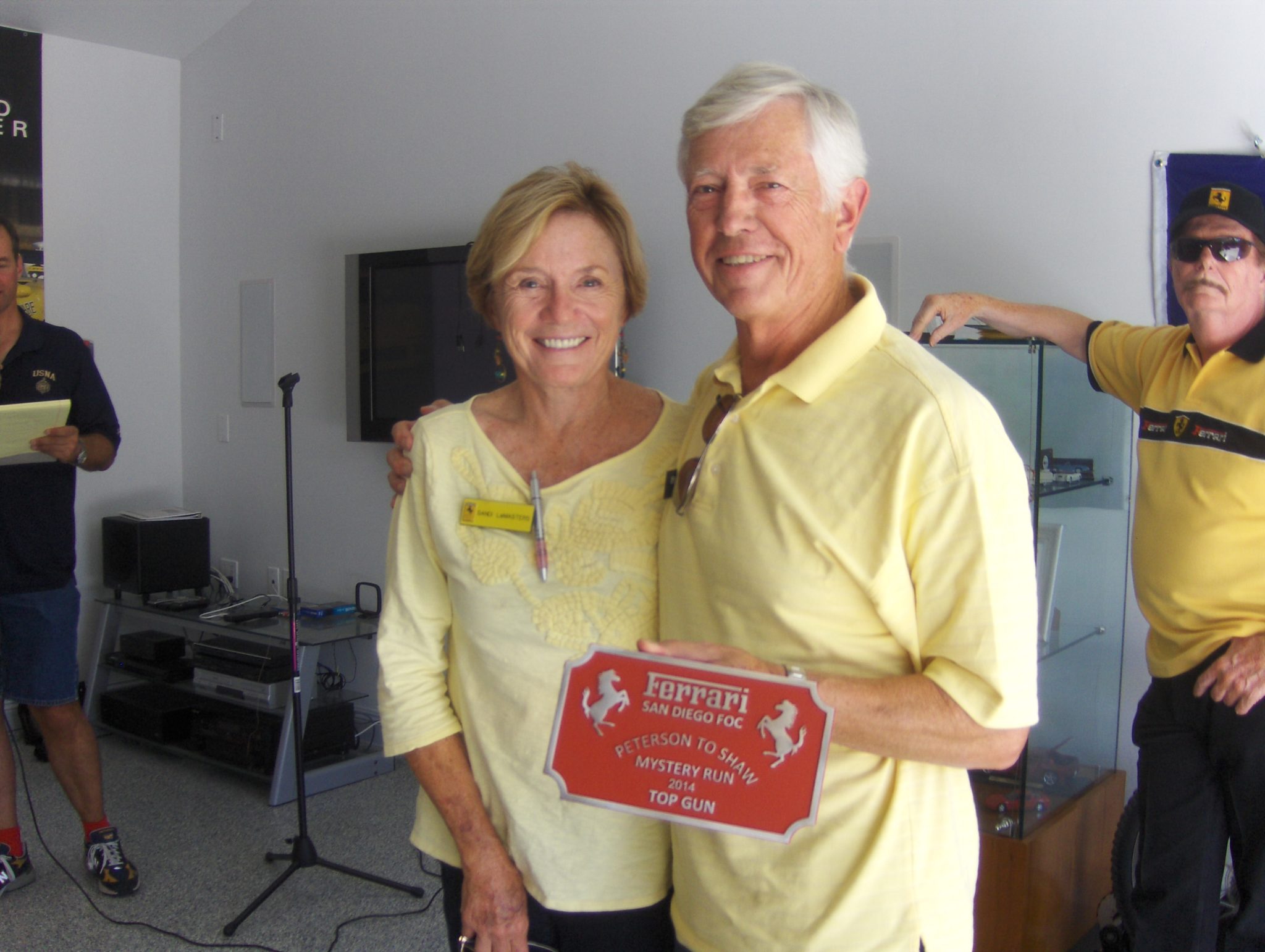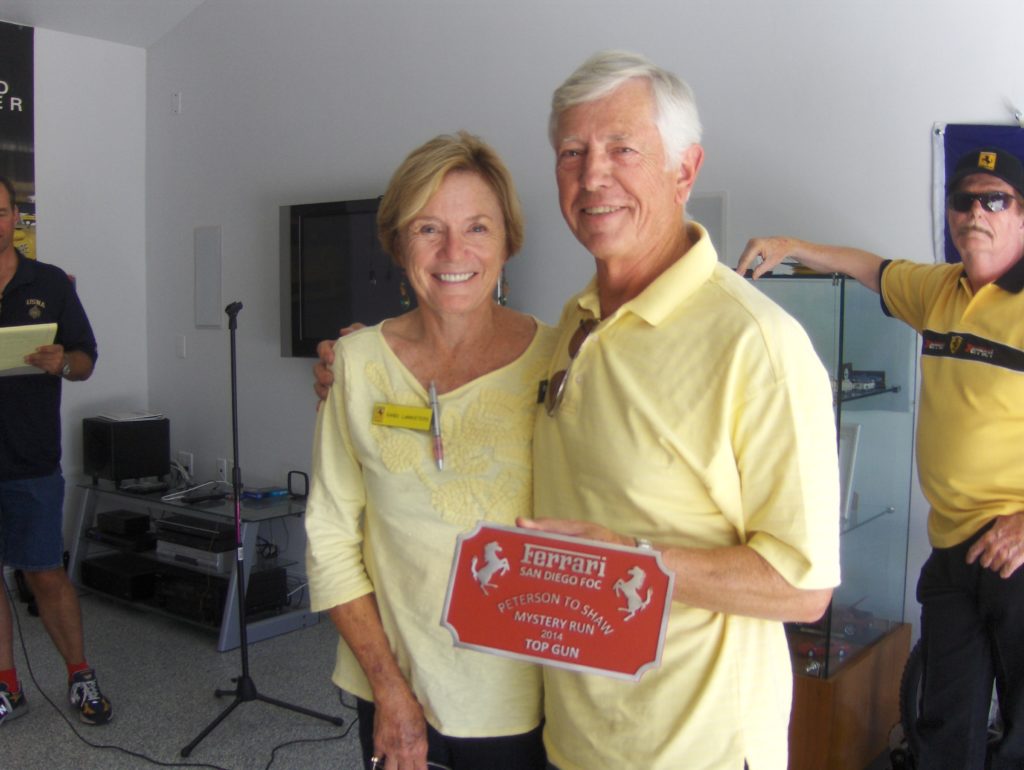 Top Gun – Bill and Sandi LeMasters
Thank you to Ron and Tina Tinkham along with Scott and Ann Shaw for all the work and time it took to put on this event. Also, thank you to the participants who signed up for an afternoon of Ferrari Comradery. Rallies are fun; with Mystery Rallies offering an extra bit of excitement. This one was no exception.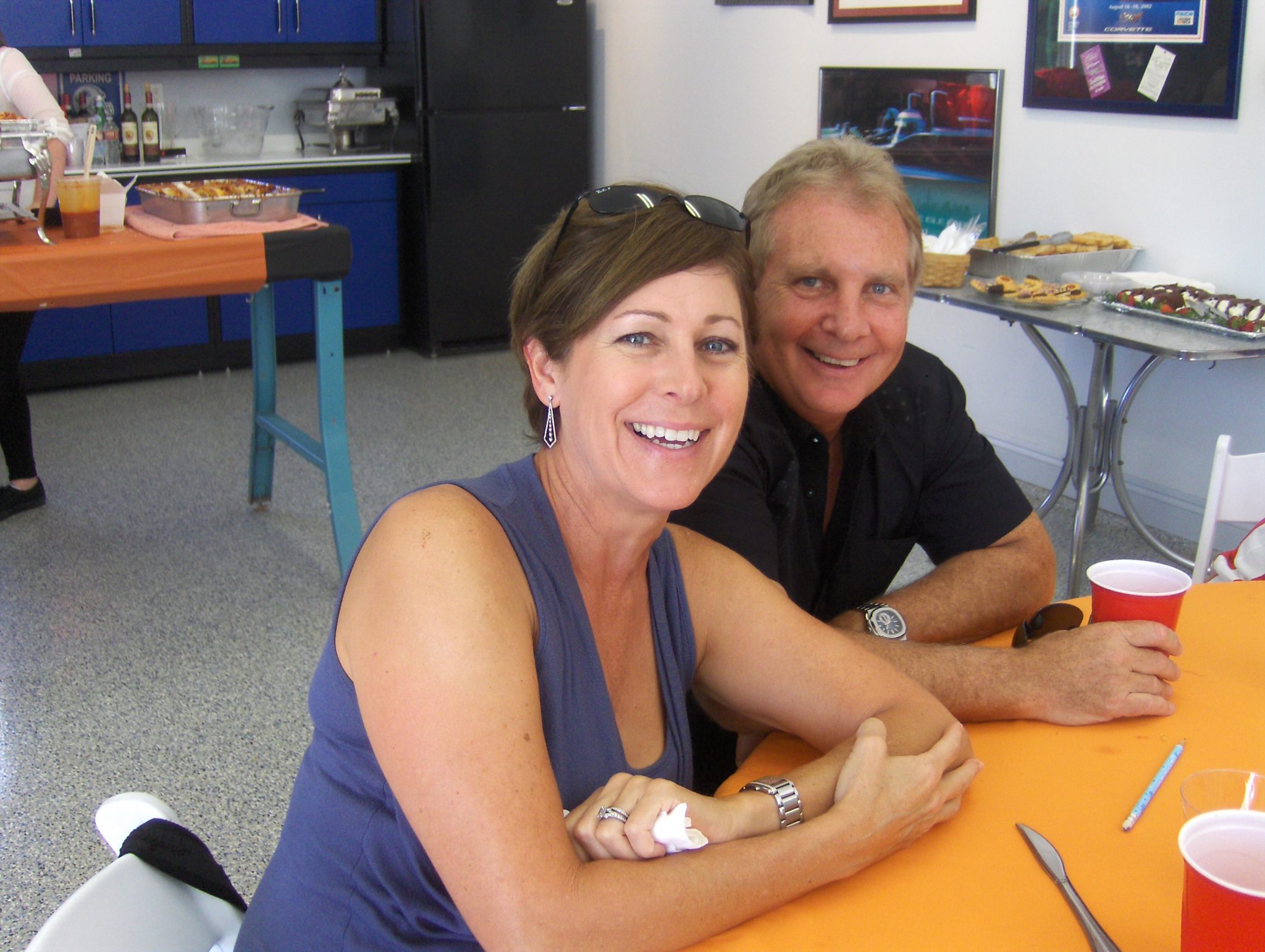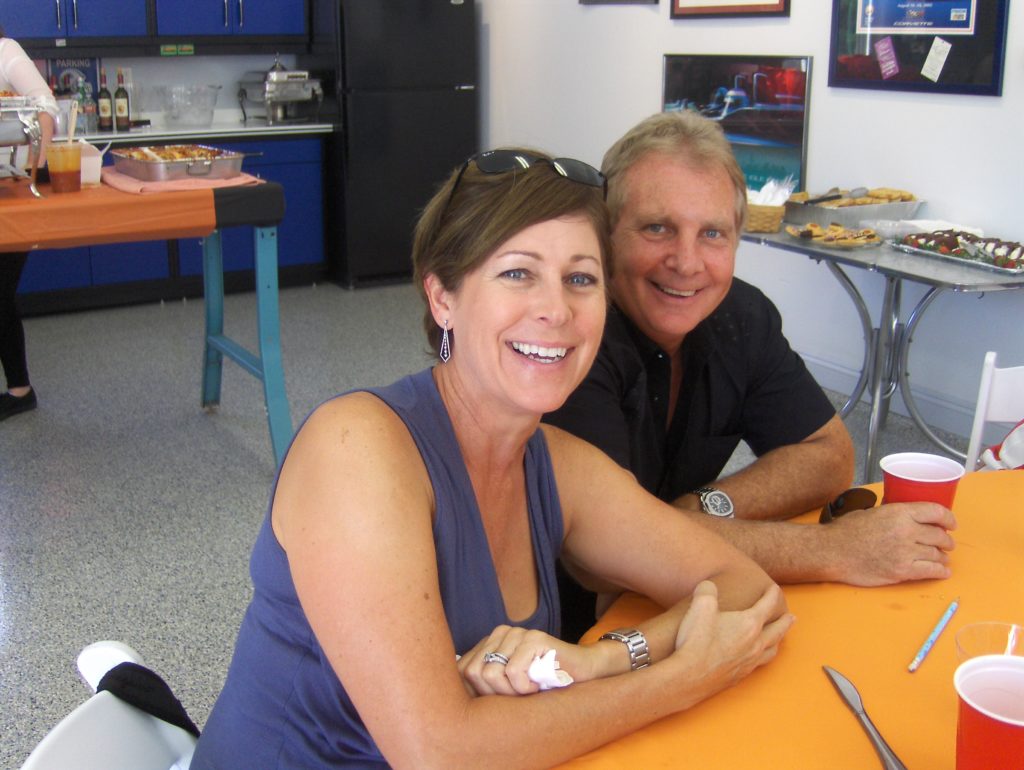 Jennifer and Paul Quilky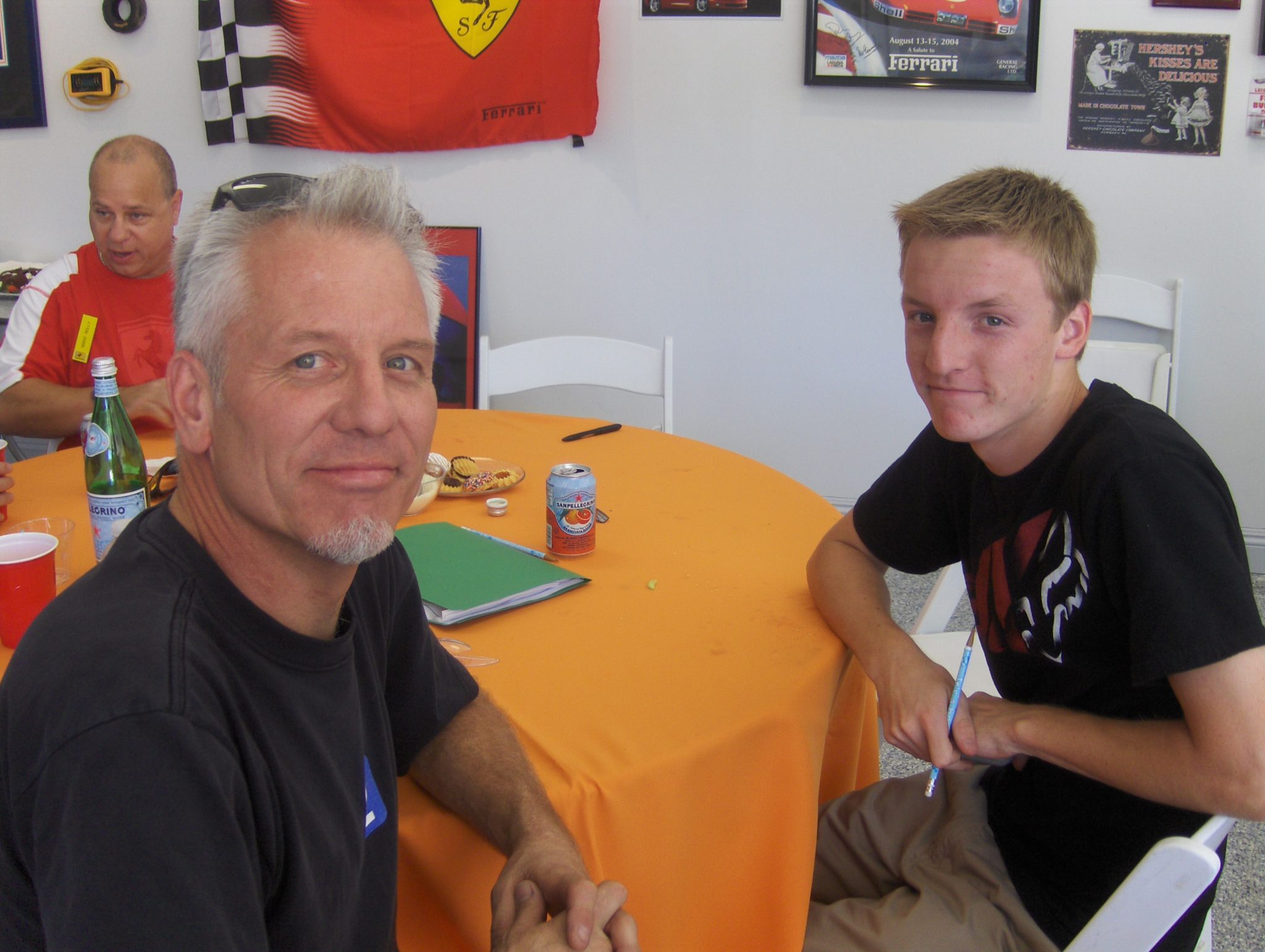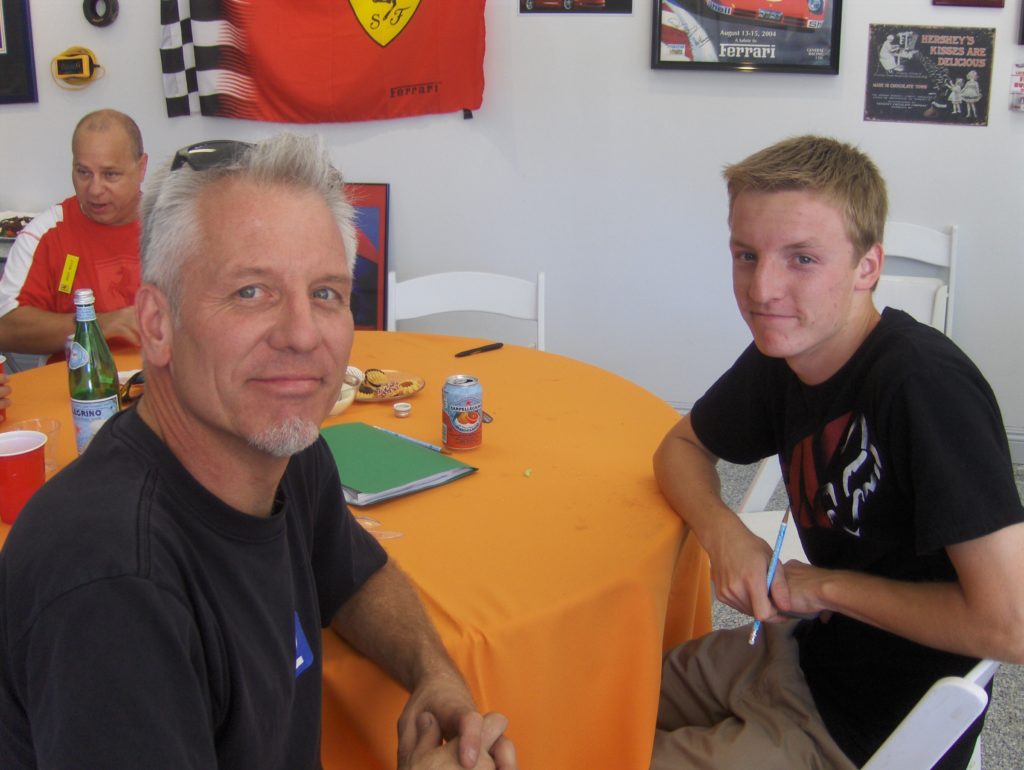 Stacey Slead and his son Steven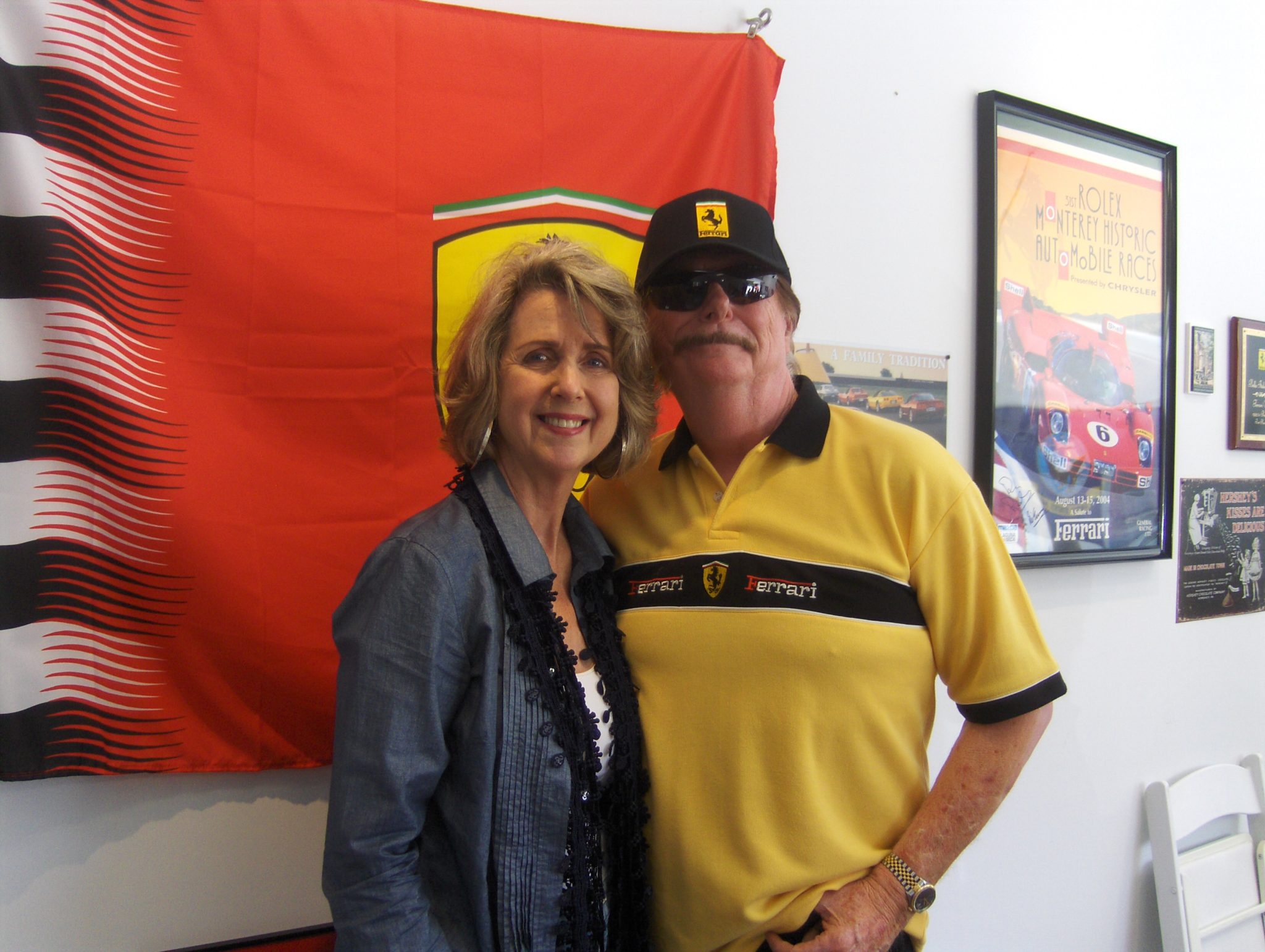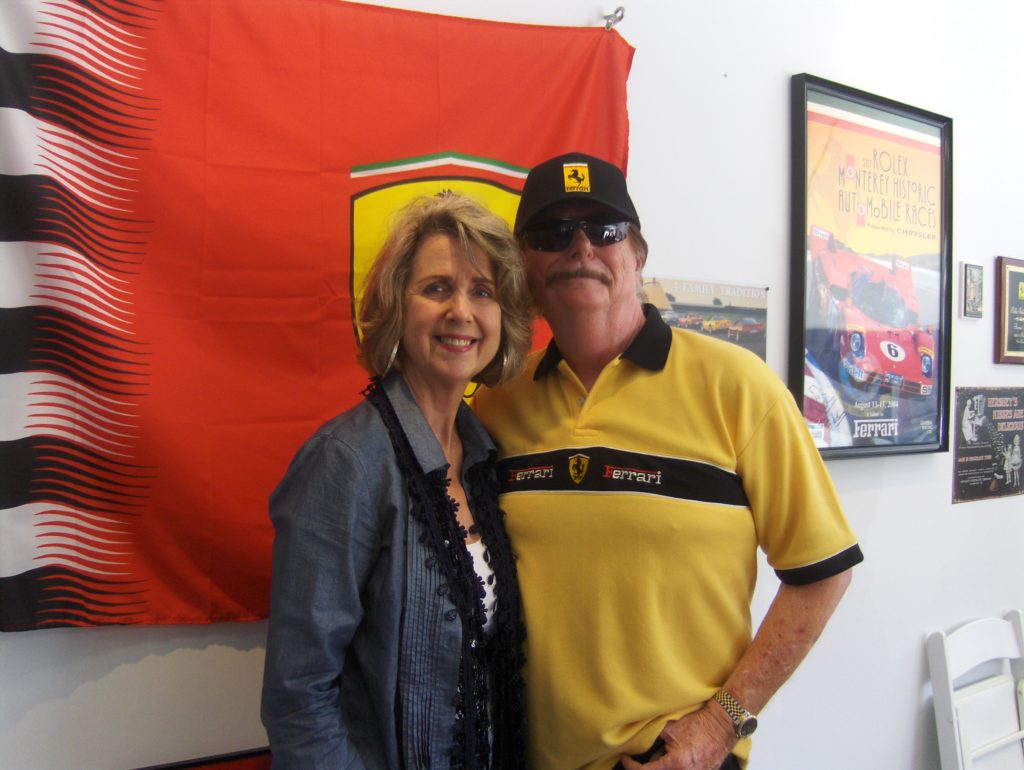 Event Co-chairs Tina and Ron Tinkham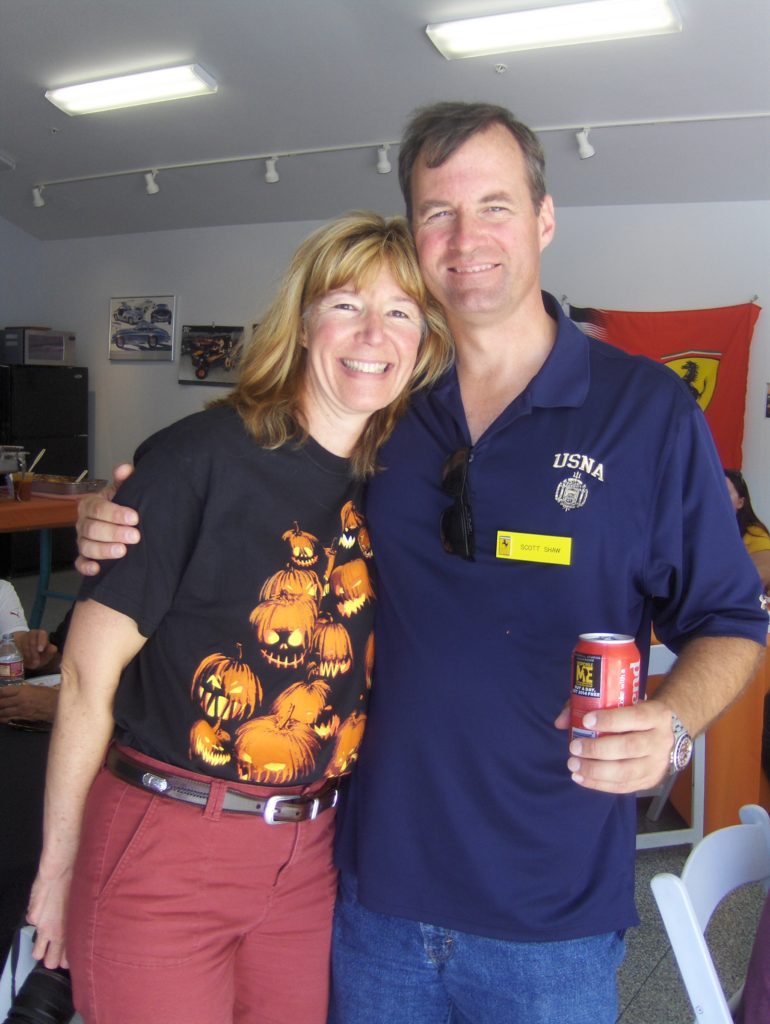 Event Co-chairs Ann and Scott Shaw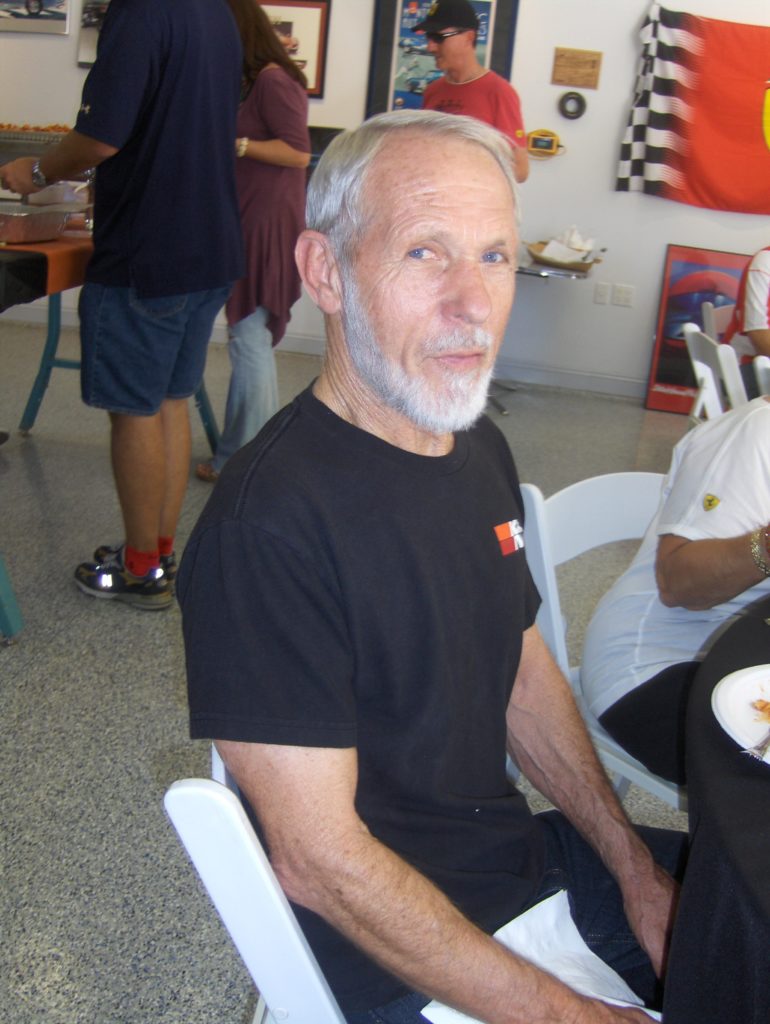 Jerry Mall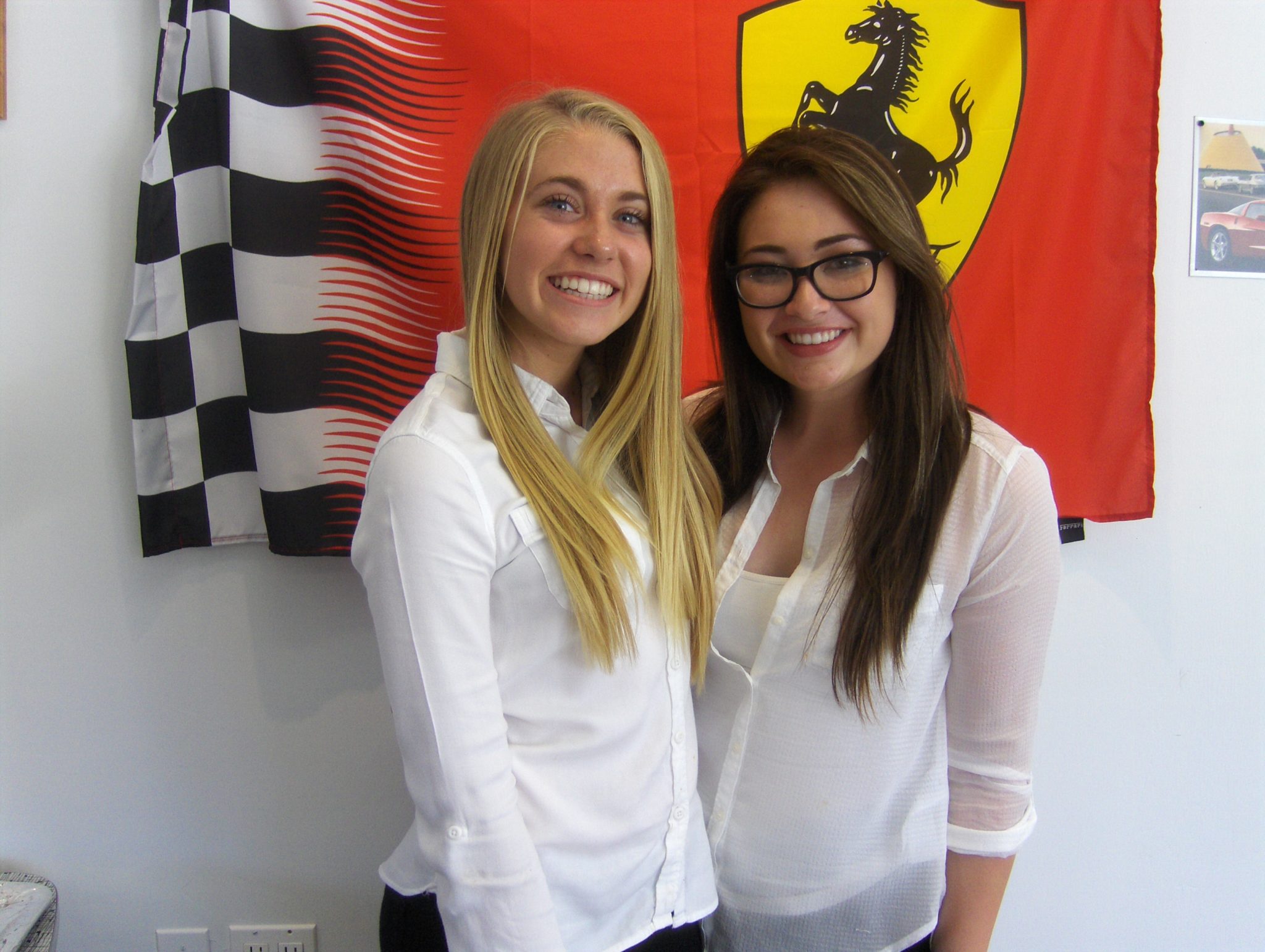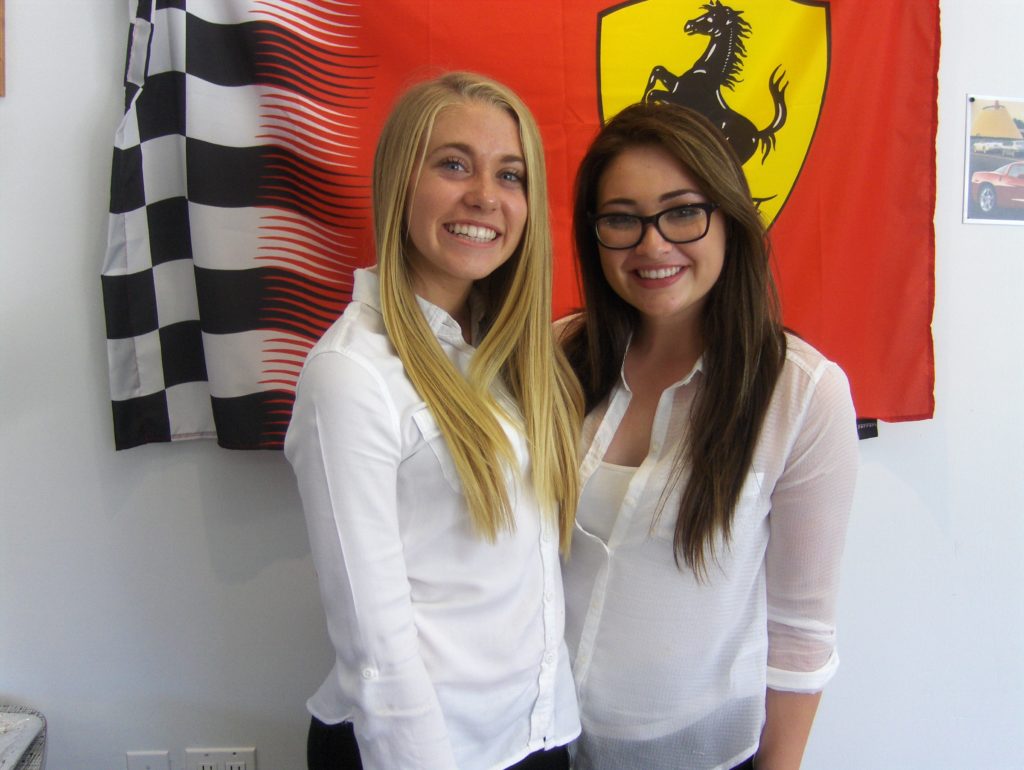 Event helpers Brittany and McKenzie