2014 Coronado Speed Festival
Article and Photos By Rich Fatuzzo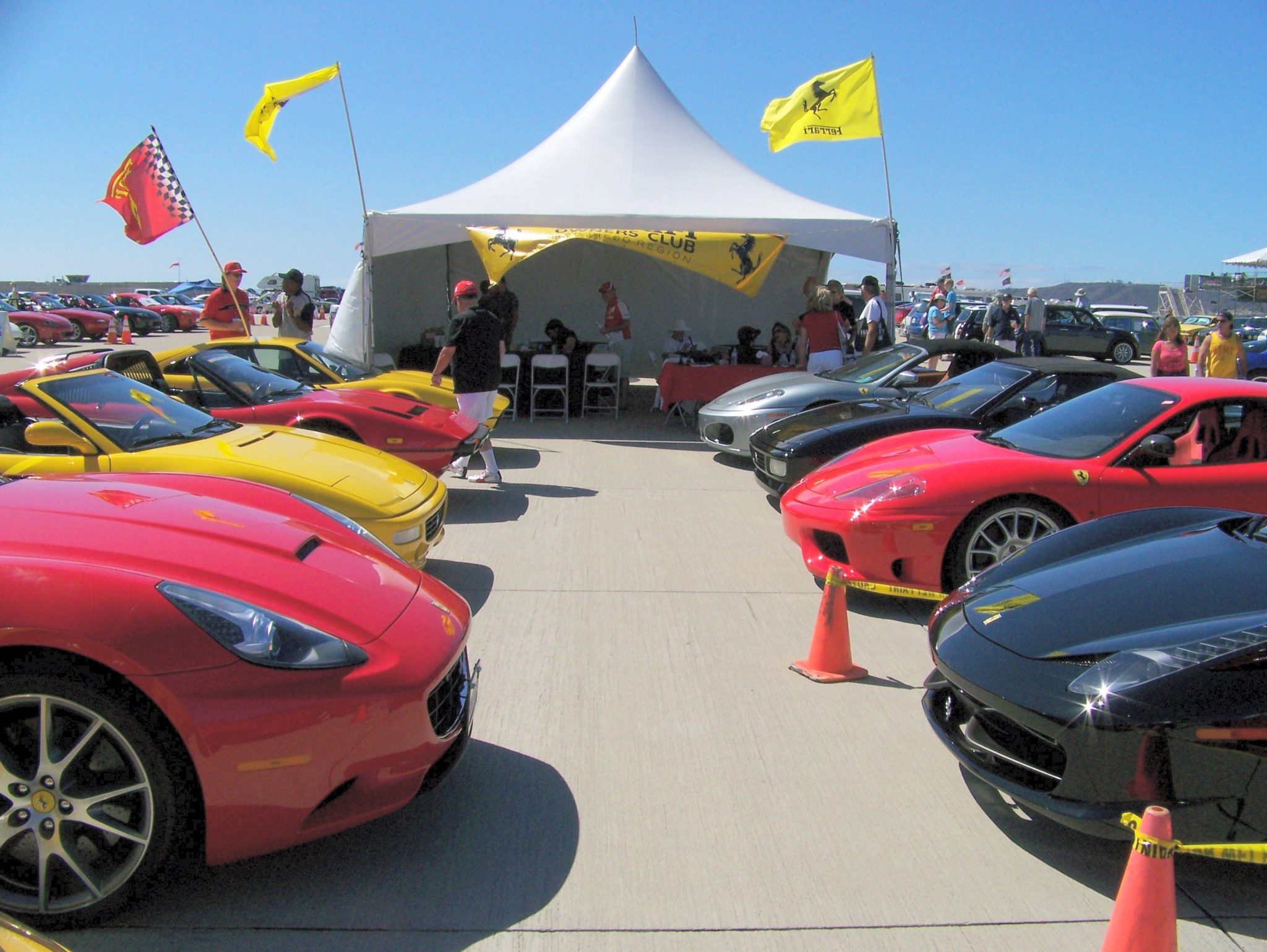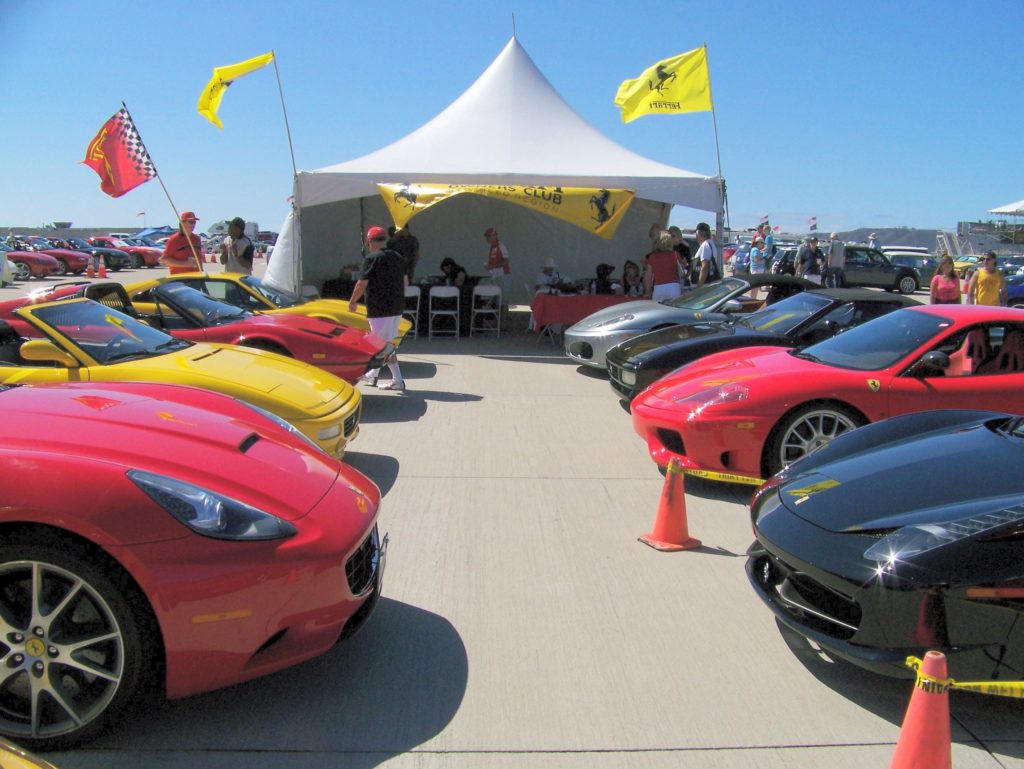 Some of the fantastic array of different Ferrari models and colors in the FOC-SD paddock area
If the weather for this two-day Event (Saturday- September 20 and Sunday- September 21) was any indication of how successful this Coronado Speed Festival "Race at the Base" would be, we knew we would be in for a tremendous treat of competitive racing. The Event is presented by the Historic Motor Sports Association (HMSA), and is the 17th running of the Coronado Speed Festival at North Island Naval Air Station.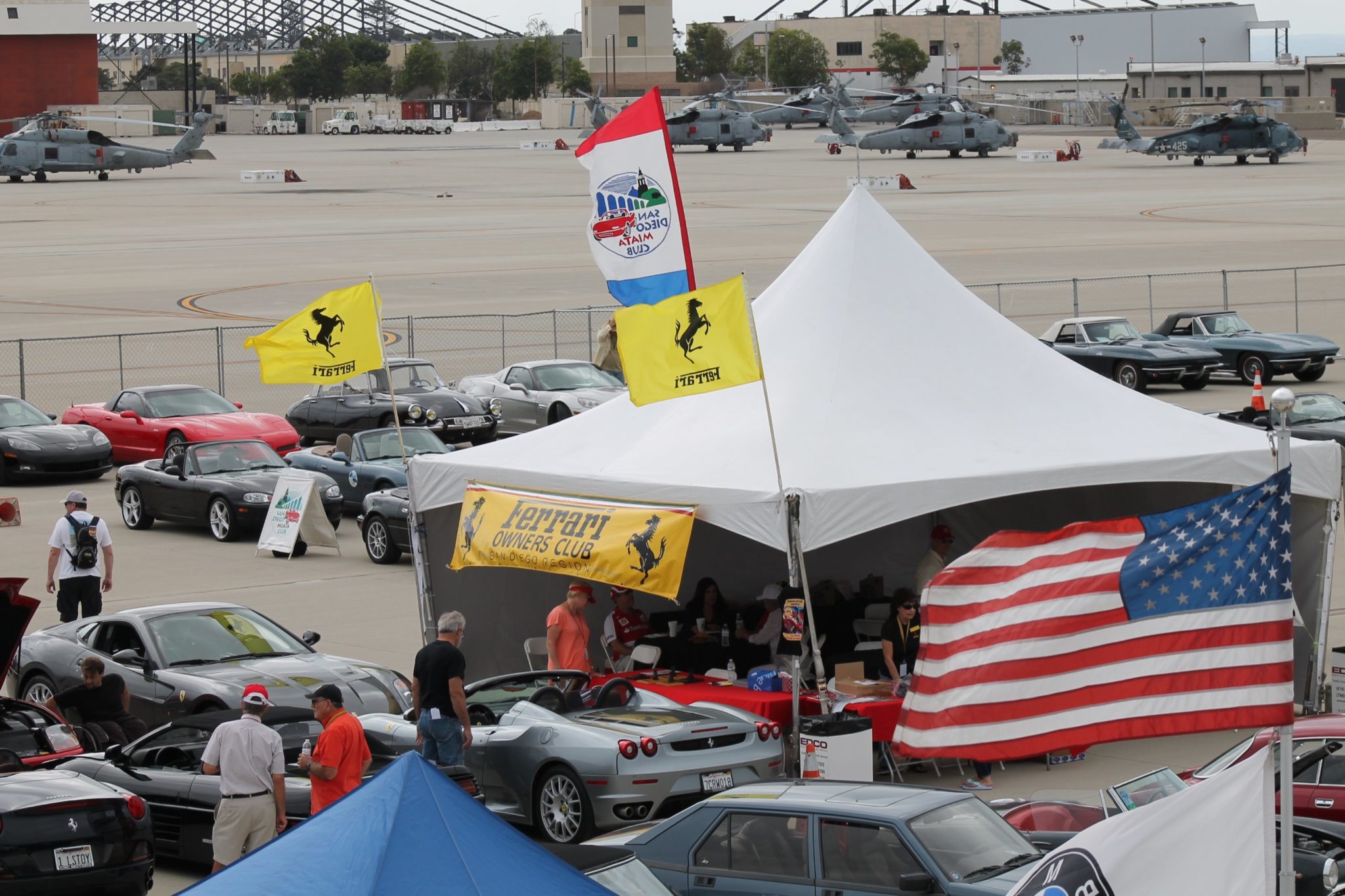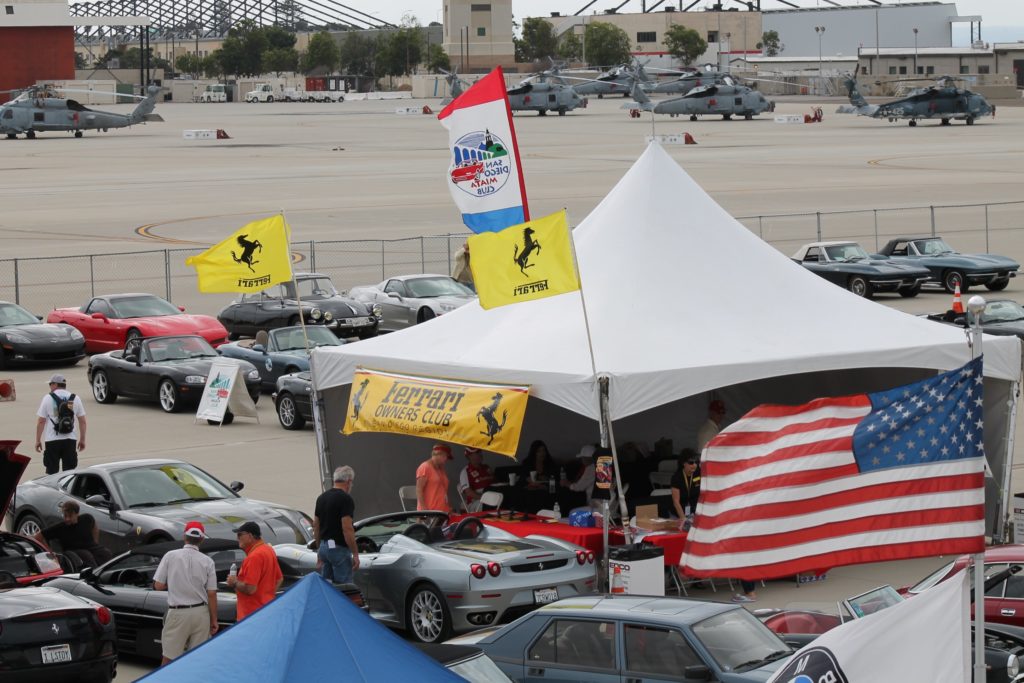 The Ferrari Cars and Hospitality Tent area were clearly a hit amongst Race Event attendees
This Annual Event allowed about 70 FOC-SD members, their families and friends the opportunity to view the wonderful display of over 35 FOC Member Ferraris in the Ferrari Corral; to socialize and enjoy specially prepared box lunches from the Calypso Cafe in the FOC hospitality tent; and then to be thoroughly entertained by watching Vintage Car Racing on a 1.7 mile race track, made up of 10 Race Groups with over 240 Vintage cars in competition. A crowd, estimated at over 25,000, viewed the two-days of racing.
The Racing Event benefits the Morale, Welfare and Recreation Fund of our military and their families stationed here. Last year, over 12,000 enlisted men and women and their families attended. And, it was not just all about the racing, there was a Coronado Village Car Parade; Car Corrals, Vendor Booths and Car Shows; new car test drives; garage tours of the racing cars; a Military Pit Crew Challenge; ship tours, such as the USS Nimitz- Supercarrier; and flyovers, including the elite Navy Leap Frog Skydivers. There were over 2,200 cars, trucks and motorcycles displayed in over 50 Car Corrals and Racing and Display Paddock areas, aligning the grandstand sections of the race track and encompassing at least 10 football field areas behind and alongside the grandstands.
Most of the Race Groups included Sports and Production Cars of various years from early 50's to late 70's and with engine sizes either under 2000cc or over 2500 cc some with drum brakes, but mostly disc brake systems. For the Ferrari Car lovers, there were two Ferrari racers, a red 1972 312P SPL driven by John Goodman of Seattle, Washington, and Jim Migliaccio, a FOC-SD Member in a yellow- 1975 Ferrari- 308 GTV, Car #75. (Jim also raced in Car #105, a green 1967 Alpha Romeo GTV. Jim's wife, Rhonda is a Board Member of the FOC-SD).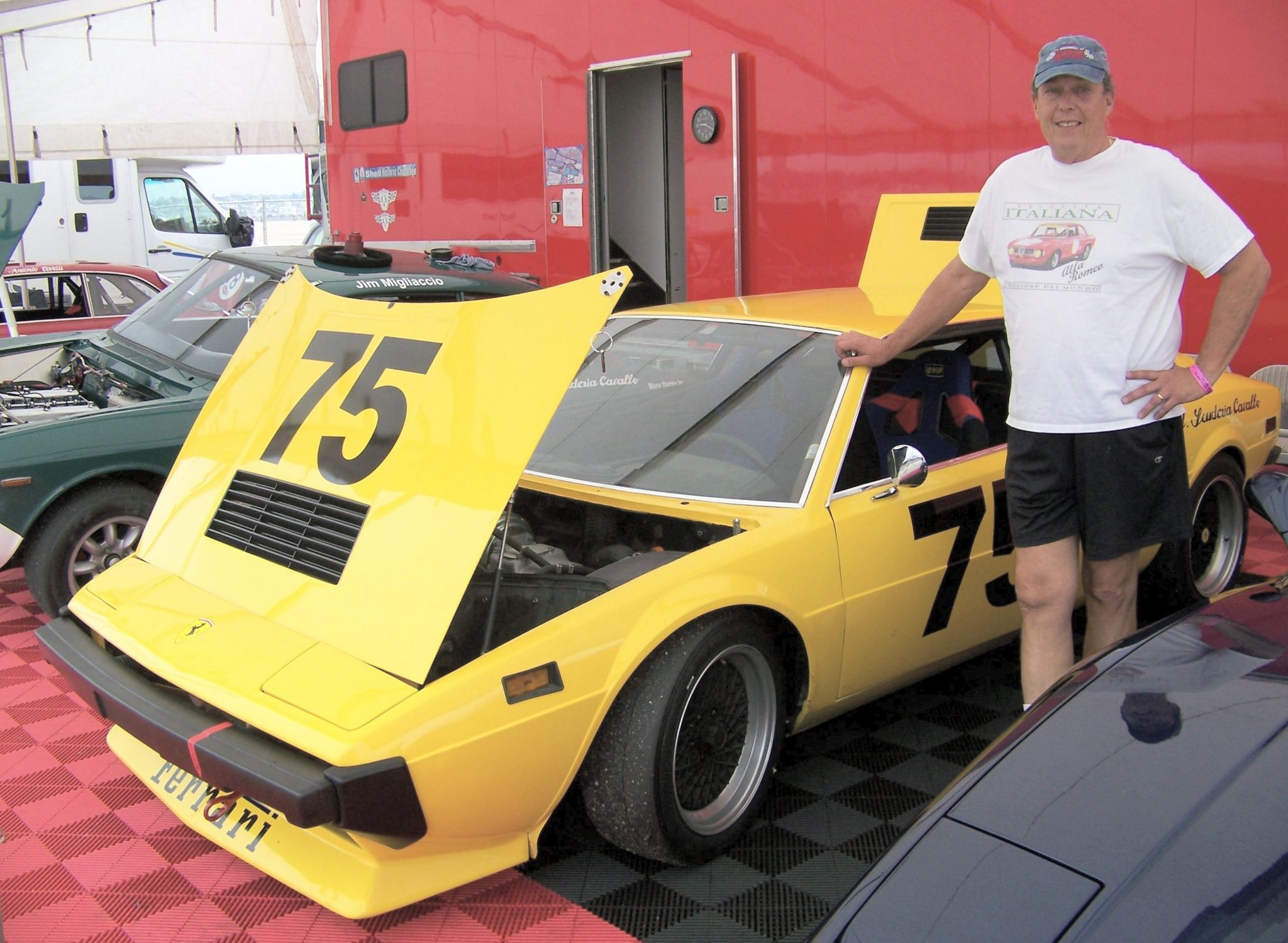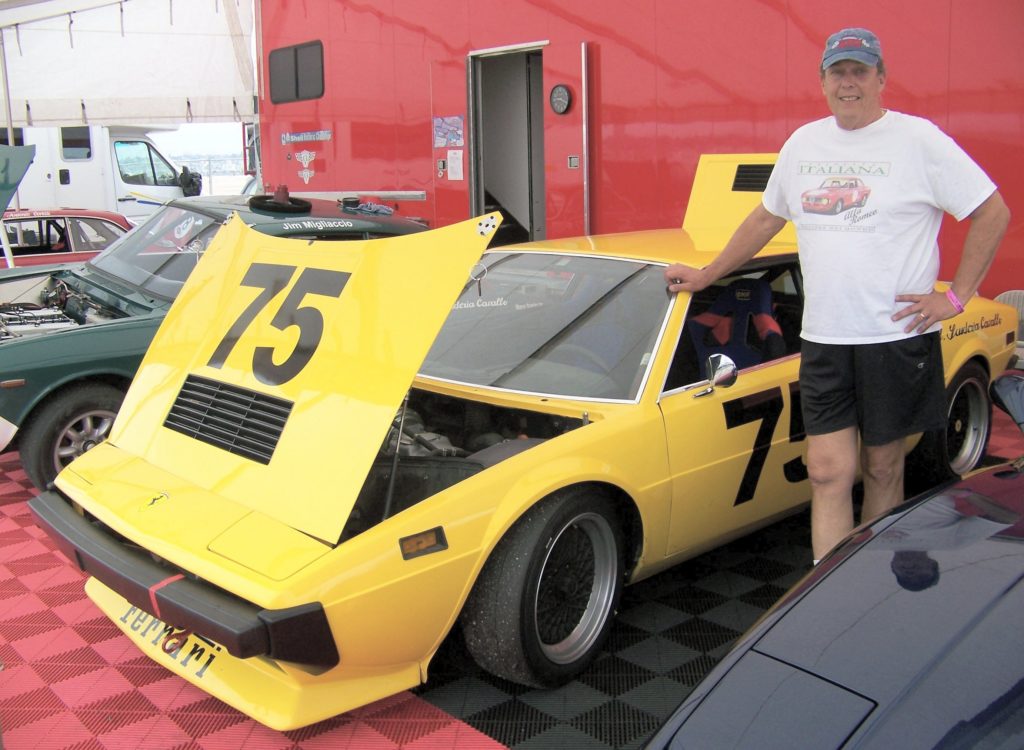 Jim Migliaccio of Cavallo Motorsports and an FOC-SD Member enjoys racing a yellow, Car #75- 1975 308 GT4 which is entered in Group 6
As in past year's, this Event's success is greatly due to the tremendous coordination of Rocky and Alice Gallo who were ably assisted by Joe and Doris Charles, Ron and Tina Tinkham and some other FOC-SD Members on either Saturday or Sunday or both race days.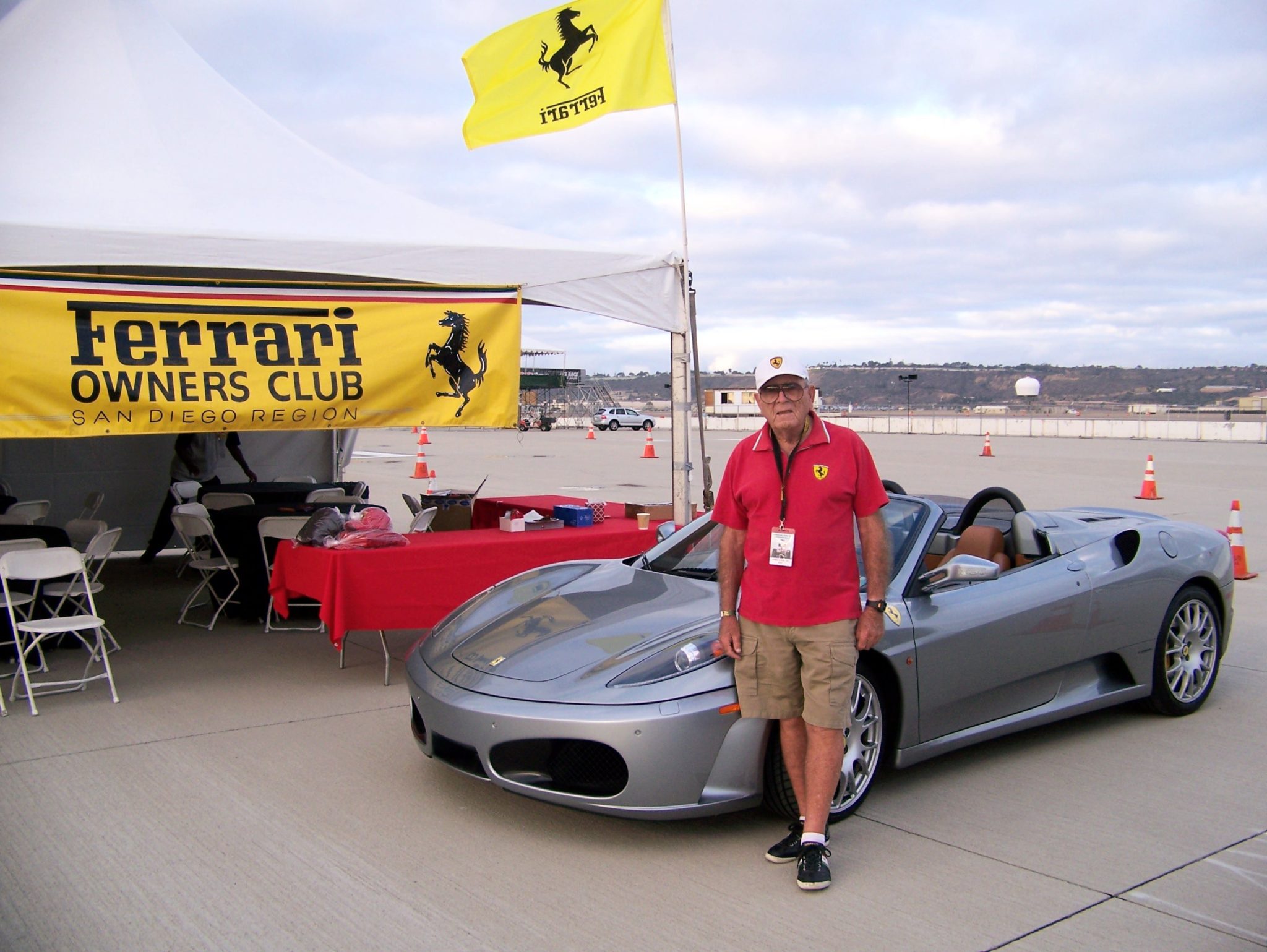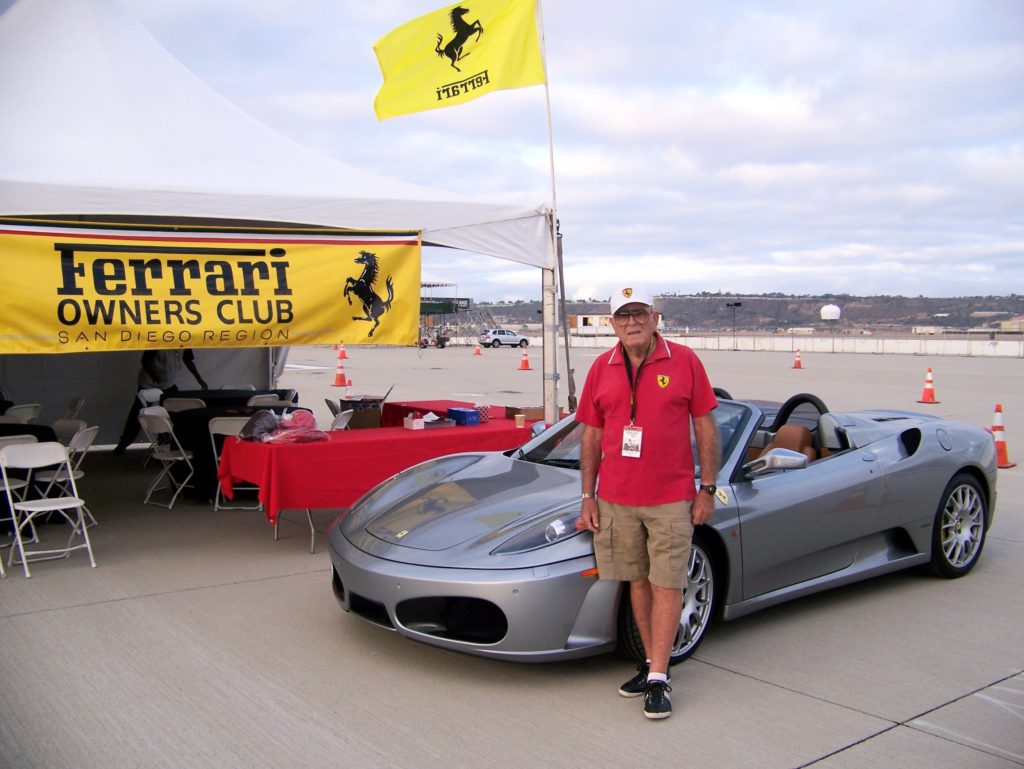 Rocky Gallo, getting ready to help park FOC-SD Member Ferraris, standing next to his beautiful 2007 Titanium Silver 430 Spyder.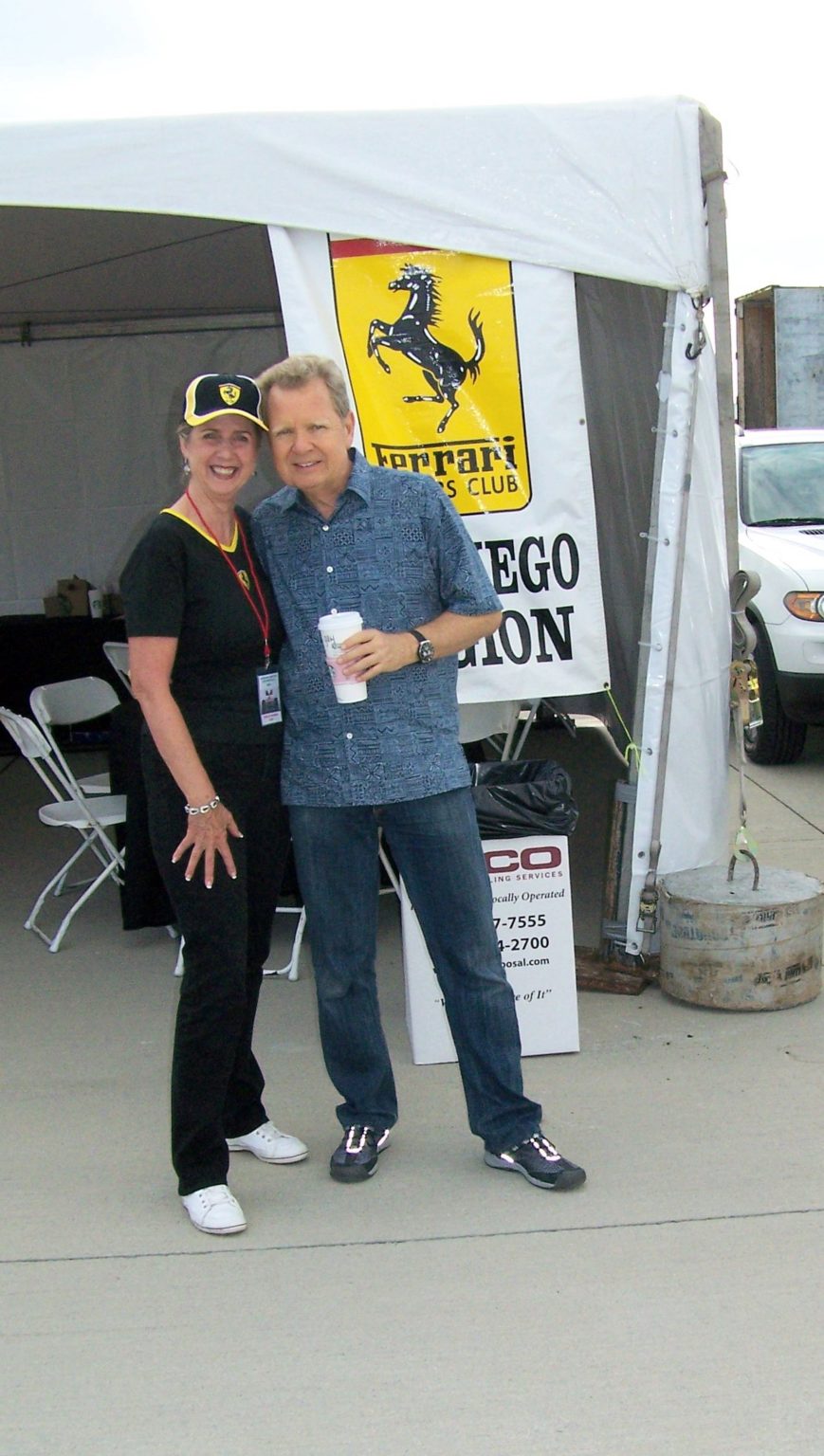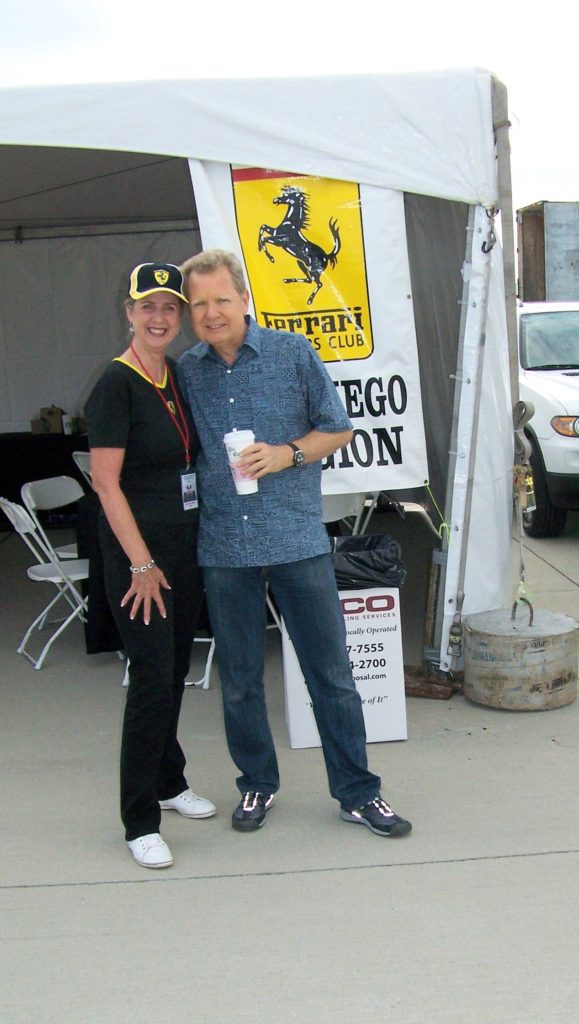 Tina Tinkham and Gary Peterson are ready to enjoy Sunday's Vintage Car Racing.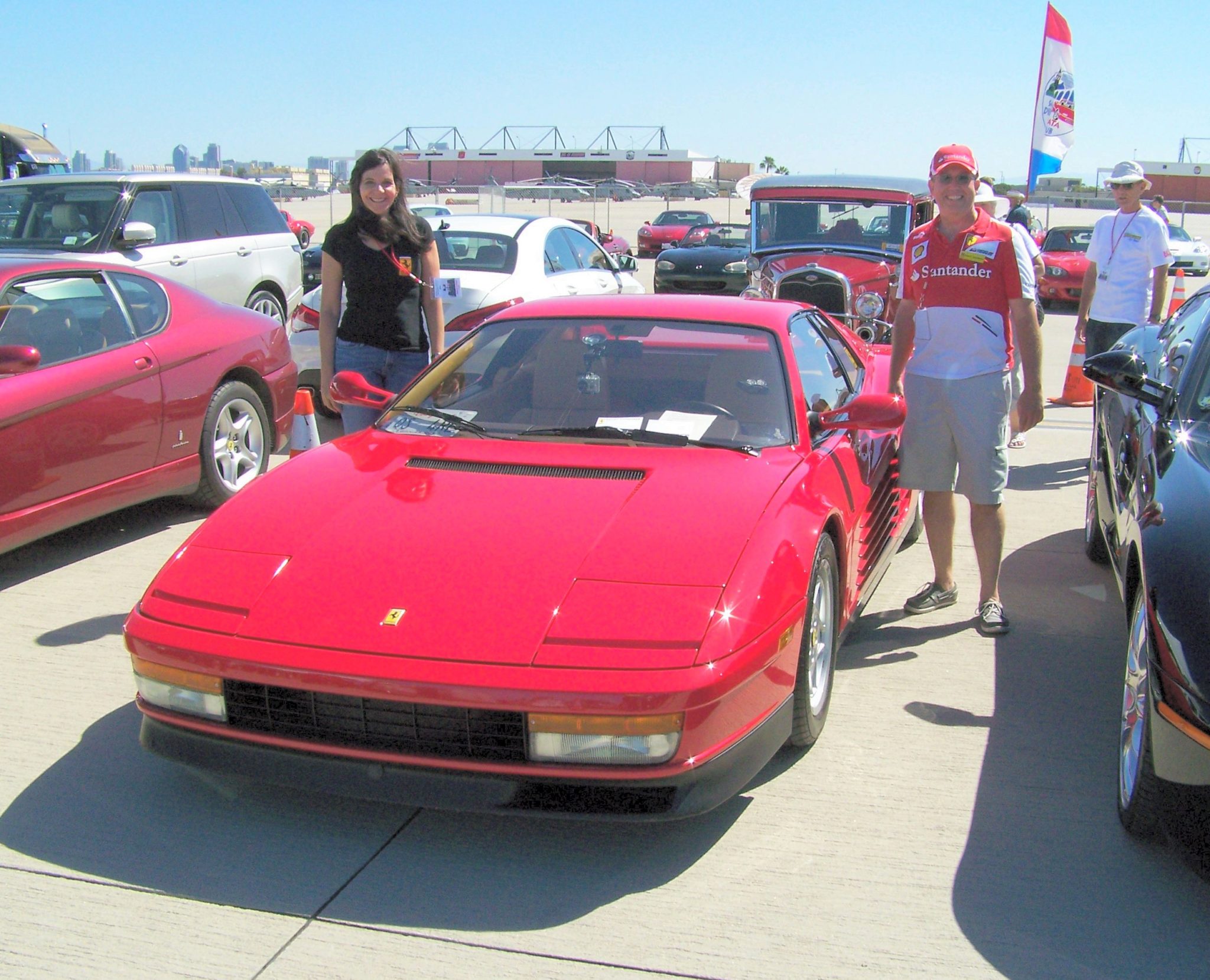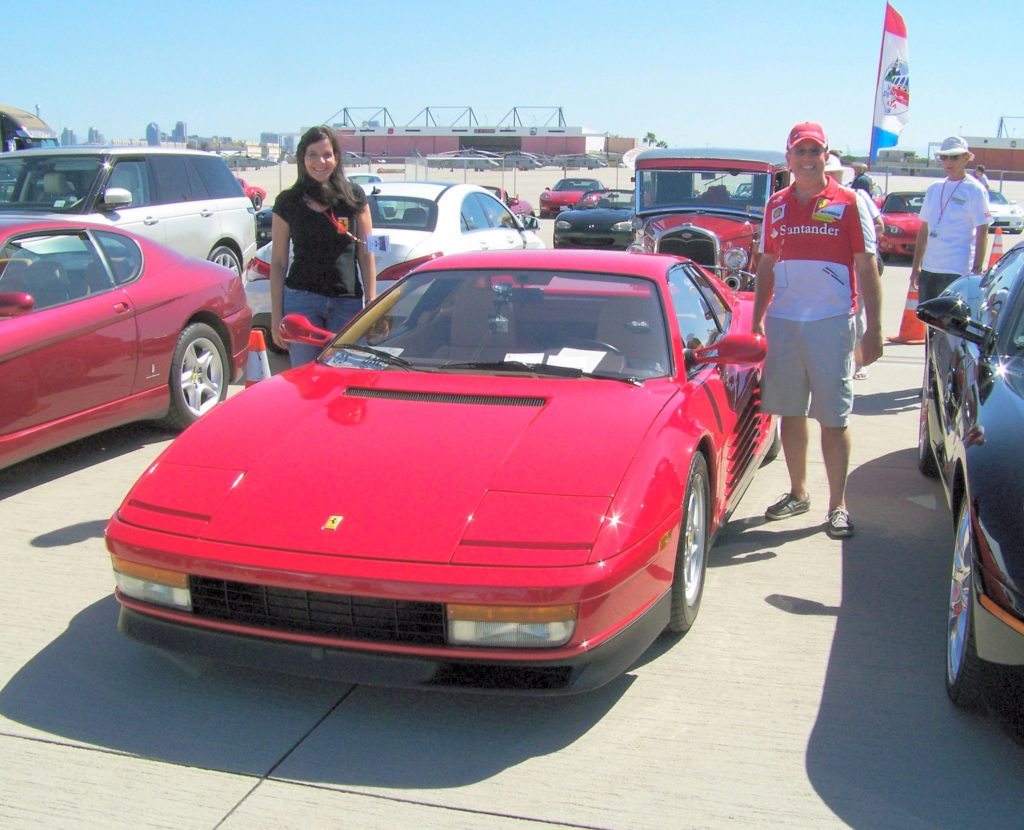 Lissandra Da Cos and Rob Quisenberry alongside Rob's stunning red, 1988 Testarossa